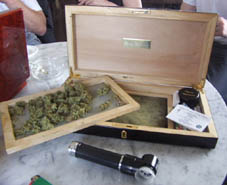 By Chris Fowlie, President, NORML New Zealand, 2002
Dordrect Weed Cup
The 8th Annual Dordrect Weed Cup was held on a large boat that cruised for six hours through more than 100km of ports and waterways from Dordrect to Rotterdam and back. Unlike the High Times Cannabis Cup, this is a grower's cup so no coffeeshops or seed companies can enter. It is a test of the grower's skills more than the genetics, and a very laid-back and sociable occasion.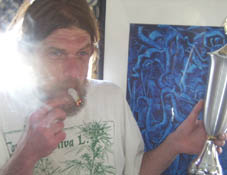 The sun was shining, bands and djs played on the three levels of the boat and there was lots of weed to smoke. The Dutch marijuana community was well represented, with people from Pollinator, Hemperium, Gypsey Nirvana, KC Brains, Sensi Seeds, High Life and Mountain High all relaxing and enjoying the good weather and great ganga.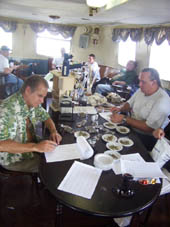 The judging was by a lucky panel who got to examine all the anonymous samples and grade them for smell, taste, appearance, trimming and effect. Rather than smoking all forty entries, samples were vaporised and the air sniffed and snorted so the judges didn't get incapacitated by cannabinoid overload.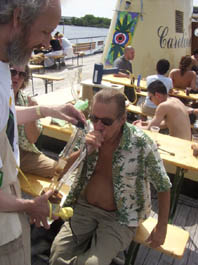 Next to the judge's table the crew from De Verdamper were offering hits on their vaporisers. On the upper deck chief judge and veteran vaporiser Eagle Bill was using a machine with a heat gun to inflate a large balloon with THC vapour and induce said cannabinoid overload in as many people as possible.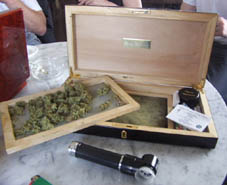 At the end of the day, the winner was a Mexican Haze, a sativa grown organically by a non-smoking and heavily pregnant mother who wasn't even there in case she went into labour on the boat. Congratulations to her, and thanks to Jan from the Dordrect Grow Shop for organising the Weed Cup.
After the cup I stayed with my friend Arjan, who I first met at Auckland University through the Norml club and over many shared joints in the Upper Common Room. Dutch tolerance for personal cultivation extends to five plants, and Arjan had waited until I arrived to harvest his crop of Snow White and Jack Widow. We could see through the loupé that the trichome cells were bursting with resin. After a night stored next to some silica gel it was ready to smoke.
The cuttings had been organised through the local grow store, and if he had grown too much for himself, Arjan could always sell the excess to the local coffeeshop for a little pocket money. It is estimated that around 75% of the Dutch supply is small-scale home growers supplementing their income, but before the coffeeshops there was only the hash smuggled by drug cartels.