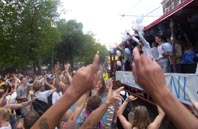 By Chris Fowlie, President, NORML New Zealand, 2002
The Dutch do not celebrate J Day with the rest of the world, partly because they have already achieved what the rest of us want, but mostly because the first Saturday in May is also the Dutch independence day. Marijuana festivities were instead held Saturday June 8 with a Legalize! parade through the city to a waterfront party involving about a dozen sound systems on trucks.

The parade grew to thousands of people from all walks of life dancing their way through the streets in a celebration of all things cannabis. When we finally reached the empty lot by the waterfront the trucks spread out in a circle and the techno, trance, dub and house sound systems competed for the crowd.
Jan and the De Verdamper crew from the Dordrect Weed Cup were there with what is quite possibly the world's largest vaporiser. It features a heat gun that filled an excessively-large glass water bong with THC vapour and yes, it does deliver a tasty and healthy hit.

After the Amsterdam parade I traveled through France to Spain. >>