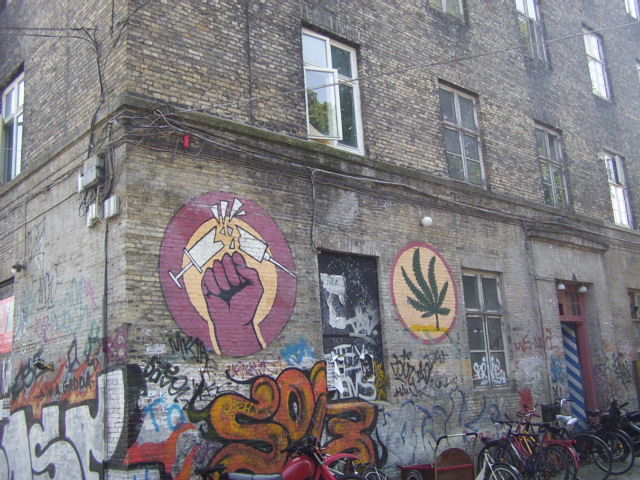 Text: Chris Fowlie. Photos: Chris Fowlie.
Published in NORML News, Summer 2003.
In the middle of Copenhagen (the "merchants haven"), in a former army barracks, is a 30-year communal squat of more than 1000 people whose most famous feature is an open air marijuana and hash marketplace.
Christiania was first squatted in 1971 and has been the centre of controversy ever since. Successive governments have constantly threatened to close the social experiment, but have never succeeded. The most well-known part of Christiania, and the second most visited tourist destination in Copenhagen after the Little Mermaid, is Pusher Street.
The name "Pusher Street" perhaps gives the impression of a seedy alley with touts trying to drag you off somewhere to stick a needle in your arm, but this could hardly be further from the truth. There are really only two rules: no hard drugs, and no photos. These two rules are emblazoned all over the walls, and are definitely to be followed if you don't want to be physically removed. That's why there are [few] photos for this story.
Pusher Street is lined with about 20 wooden booths which the dealers stand behind to offer their wares. Large bricks of exotic hash and buckets of marijuana from around the world are placed on the tables, and unlike in the Netherlands, the customers are welcome to handle the produce, which is very nice for someone who has never seen one brick of hash before, let alone 20 different kinds all lined up for inspection.
The dealers use gardening shears – or their teeth – to chop the hash, which is weighed in front of you. Most of the hash and grass I saw had come via the Netherlands, so it was more expensive than what you would pay there. They also had some Dansk weed so it was nice to try some of the local produce.
After making my purchases (thanks to The Dominion, once again!), I made my way to the Nemoland garden bar to enjoy a beer and a joint in the sun. Then I went next-door to the Moonfisher coffeeshop to work up an appetite for the wonderful vegetarian restaurant. On my way back to Pusher Street I checked out some of the many weird and wonderful hippie houses, and stopped at the delicious bakery for another munch before buying yet more marijuana just in case I might run out.
Despite appearances, the cannabis market is completely illegal and only barely tolerated. Police raids are not uncommon, and the gate to Christiania has a lookout to spot police entering the area. The week before I visited, police had raided Pusher Street and removed two of the dealer booths, although they left all the rest intact. It is also not uncommon for the police to set traps in the roads around Christiania, hoping to catch people leaving with a few newly-purchased grams of herb in their pockets.
However, it is still very rare to be arrested or charged for possessing small amounts of cannabis in Denmark. Even the Danish police realise there is nothing they can do, and like in Switzerland the irregular raids and occasional arrests are just put on to show that they are doing something. Perhaps the real reason for wanting to close Christiania is that they demonstrate by their very existence that people can live together without government involvement. If the Netherlands shows that we do not need harsh drug laws to have a sensible and respectful attitude to drugs, Christiania shows that we do not need harsh governments to be sensible and respectful to each other.