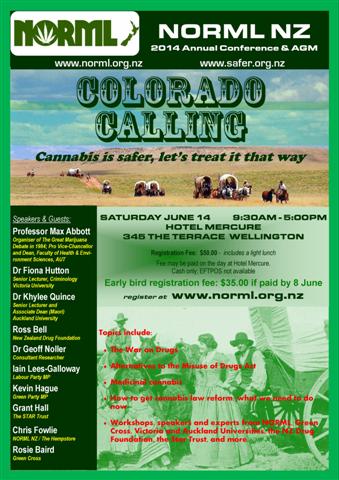 This plan builds upon the 2012 and 2013-14 plans, as well as recent advancements in the cannabis debate here in New Zealand and successful initiatives in Colorado, Washington and Uruguay.
Adopted 14 June, 2014, in Wellington.
Policy Goals
Cannabis is safer than alcohol, or synthetics, and should be treated that way. Our overall goal is to legalise the responsible use of cannabis by adults. Our three core policies, adopted in 2011, are:
Treat cannabis use (and all drug use) as a health issue, not a crime
Allow safe, legal access to medicinal cannabis
Regulate and tax the market for cannabis and other low risk drugs
Recent polls have shown increased support for law reform (eg, Campbell Live's poll 84% support for cannabis law reform; Otago University poll 90% support). There is widespread support for the first two of the above policies, but no consensus regarding the exact model for cannabis law reform.
NORML campaigns for the removal of all penalties, the right to grow your own, and some form of regulated market. With recent advancements in the United States and Uruguay, and New Zealand's own experience with the Psychoactive Substances Act 2013, the Law Commission's 2011 recommendations seem to be too conservative.
To help advance the debate, we should propose a specific model based either on Colorado's "regulated private enterprise" law, or Washington's "state-run marketplace", or Uruguay's "government-grown or social club" approach.
The unique opportunity for New Zealand cannabis law reform is that synthetic cannabis products will be back in stores within 2-3 years. Many people realise the only way it can be stopped is by allowing the real thing. This also puts a timeframe on our campaign. It means cannabis can't be buried in another inquiry, and we can't wait for UN drug treaties to be reviewed. While we must take care not to encourage anti-drug hysteria, we should capitalise on the growing public feeling that natural cannabis is safer. We are also mindful this is an election year and we will have a new Parliament to deal with.
The Board recommends:
that NORML invite qualified supporters to join an Advisory Board to help it develop expertise in the models now available for regulating and controlling cannabis.
Action Plan
In order to pass legislation we need the support ( in a "conscience vote" in Parliament) of at least 61 MPs, who in turn need the support of their voters, the media and other influencers. We will:
Collate all the available information on where those MPs who will be returning to Parliament stand, and the same for likely new MPs; and build relationships with all supportive and uncommitted MPs.

Safer.org.nz – gather intelligence; use the crowd to fill in blanks; add previous voting history
MP and candidate visits, letters and phone calls

Map all the influences and influencers and start to work out the evidence base, useful allies and opponents who need to be neutralised. For example:

Media
Ministry of Health/Police/Justice
Evidence (scientific including social sciences)
Law Commission
Public opinion
Academic opinion
Parent groups, teachers

Get 'average voter' types to raise the issue on the campaign trail. It's important to have the right people do it, and the approach has to be non-confrontational. Opportunities include:

University debates – July
Election public meetings – August/Sept
Great Marijuana Debate Pt 3 – October
The Board recommends:
that NORML strengthen our network of branches and local groups, by helping our activists become more effective (for example, through training activities), and by more effective communications with our supporters

that the new NORML Board consider employing a paid organiser, based in Wellington or Auckland (noting the fundraising and oversight required) to help the Board carry out the Action Plan

that NORML continue to work in a non-partisan way, encouraging membership and support from the members of all political parties and of independents