By Chris Fowlie, President, NORML New Zealand, 2002
I crossed back over the channel and away from the Spanish sun to visit the Dutch Experience, the UK's first genuine coffeeshop located in Stockport, near Manchester.
The Dutch Experience opened amidst a huge drugs debate and widely-expected cannabis law reform. Colin Davies and Nol van Schaik opened the Dutch Experience on September 15 last year as a medical marijuana club. They were immediately raided by police, who later threw Colin in jail without trial. Colin suffers from a broken back and takes cannabis for pain relief, but he had spent much of his time in prison chained to a hospital bed and on a morphine drip. Rather than giving up, a band of committed supporters stood firm against the injustice, kept the cafe open and after almost 40 arrests the police backed down and refused to arrest any more supporters even when they smoked cannabis in the police station lobby.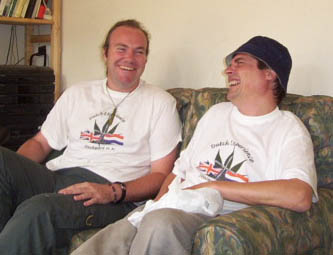 Colin, who has already been acquitted twice on medical necessity grounds, was recently released from Strangeways Prison after the judge suggested the defence make a bail application on the grounds that he would be unlikely to serve any more time than the seven months he had already been behind bars, should he eventually be found guilty. The judge is the same judge who heard Colin's previous trials and will also preside over his trial later this year. Strict bail conditions prevent Colin from visiting the Dutch Experience or his home town of Stockport, having any contact with his fellow defendants or giving interviews to the media. I briefly met with Colin and then later that week he was again arrested, this time for breaching bail conditions (he was found at his Stockport home by police). Colin was again released by the judge, and then police arrested him again before he even had a chance to leave the court. He was beaten in the courtroom by security guards after his back pain prevented him standing up. It seems the police would like to keep Colin imprisoned until his trial, which is due to start September 9 and run for six weeks at a cost of over one million pounds.

Meanwhile the Dutch Experience coffeeshop remains open every day using the tried-and-true Dutch rules: R18, no hard drugs, no alcohol, no advertising, no nuisance and no large deals. The Stockport tourist office happily directs people to the cafe, who have never been cause for a complaint. Like many Dutch coffeeshops, the DE is part of a medi-weed system where social buyers subsidise free or cost-price marijuana for patients. The Dutch Experience has also improved the local cannabis market, with users reporting reduced prices and better quality.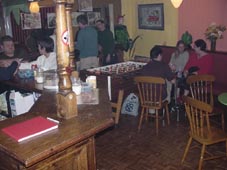 I took in my 5 pounds and passport photograph to become member 1089, signed the form that committed me to following the rules and declared that I am not a cop or an informant, and went out the back to the member's room. This includes two essential features of a genuine Dutch coffeeshop – a table soccer machine and a dealer's booth. The booth has been built to look like a machine so no-one can see who the dealer is. Customers put their membership card, money and request in one slot, and what they want drops out the other. The set up appears to conform to what the UK police keep saying about not tolerating "blatant open dealing". What could be more discreet than whispering your order down a drainpipe in the back room of a cafe in a courtyard down a quiet street in a sleepy town in the north of England?
In early July 2002, after I had returned to London, Home Secretary David Blunkett confirmed that cannabis will be reclassified to Class C, which means possessing and using cannabis will remain an offence but people cannot be arrested or searched for it. This small-but-significant step means millions of British cannabis users no longer have to live in fear of the police. Cannabis seeds have always been legal in the UK and now indoor growing is really taking off as people forget their fears and inhibitions generated by the cannabis prohibition.
It is not all good news, however. When making the announcement, the British government capitulated to a small but vocal number of anti-drugs campaigners and the tabloid press and doubled the maximum sentence for dealing in cannabis from 5 years imprisonment to 14 years, with their only explanation that they wanted to "send a message" that they are not going "soft" on drugs. This contradictory policy shift – reduced penalties for using but increased penalties for dealing – has already confused the public. Unlike the Dutch policy, the new British policy will increase the link between cannabis and hard drugs instead of breaking it.
The so-called "gateway" effect is a result of the procedure of forcing cannabis buyers to shop in an illicit multi-drug market. This gateway effect therefore can only be broken at the point of supply, by separating the vast majority of people who only want to smoke cannabis from those dealers who want to sell them something else. The increased penalties will make friends less likely to want to sell to their mates because cannabis supply will be on a par with aggravated robbery and sexual assault. Cannabis users will therefore be more likely to have to resort to street dealers to score. Those street dealers will be more likely to offer hard drugs like crack as the penalties will be the same but the potential profit is much higher.