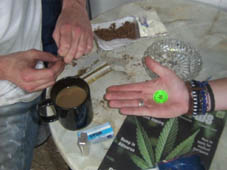 By Chris Fowlie, President, NORML New Zealand, 2002
J-Day, London
J Day is now celebrated in over 150 cities around the world, and London is the biggest. The International Cannabis Coalition March and Festival is held in Brixton in the Lambeth police district where public pressure has forced police to stop arresting people for cannabis possession.
I volunteered for the job of march steward which meant walking along the side of the march with an orange sash on. I caught up with Russell Cronin, pot author and medical marijuana coordinator for NORML when he lived in New Zealand last year. We donned our sashes, put on our happy faces with some herbal help, and set off from Kennington Park towards Brixton.
By the time we reached Brockley Green the march had grown to ten thousand people and in the end more than fifty thousand potheads filled the park along with ten sound systems in marquees and on stages. Ganja fairies greeted the crowds, most of whom donated a pound as they entered the park, and there was a huge array of market stalls and food on offer. In the hemp tent, in addition to hemp rope, clothing and foods, there were ganga flapjacks, falafels and pot chocolates. Dealers circulated through the crowd offering hash and skunk and pungent smoke clouds hung over the crowds. The police were nothing but smiles and made no arrests.
Lambeth Pilot Decriminalisation Scheme
Lambeth police have saved almost 3000 hours in the six months since they stopped arresting cannabis users – enough for two more officers on the beat to target hard drug dealers – and now the scheme is set to be expanded across the UK.
There have been some complaints about the scheme:
Cannabis users also complain that police have seized more people's weed than before, even if they are not arresting them for it.
Some locals complain that street dealing appears to have increased as the dealers have came out of the shadows, but police have actually arrested more Class A dealers than ever before, and the number of robberies and muggings in Lambeth has halved since the scheme began.
There were also concerns expressed that outside dealers would move into the area and drug tourists would flock to score there, but on the contrary, an analysis of arrests by the Metropolitan Police has shown that people who live outside the Lambeth area make up a smaller proportion of drug arrests now than before the scheme began.
There have also been the familiar cries that not arresting adults who use cannabis sends a "green light" to children to also use cannabis, but Lambeth police contacted all schools in the area and found no incidents of cannabis use.
A survey of local residents found widespread support for the scheme, and drug treatment agencies in the area are also satisfied as they want to concentrate on hard drugs like crack and heroin.
I attended a community meeting in the Brixton Town Hall about the scheme, and found many locals want to have coffeeshops to get the dealers off the streets and provide safe environments for adults to responsibly use cannabis.
There are actually two coffeeshops already open in Brixton, both little known to the outside world and hard to find unless you know about them. Cafe Cairo is a really nice place with middle-eastern decor and plenty of large hookah pipes. You can smoke openly but not score. Go next door, and you can score at Sweetleaf, a Jamaican outfit that does a poor job of pretending to be a fruit shop. You must buy something from the shop – a banana or anything – and then you can go out the back where in the interests of research I spent some of The Dominion's settlement money on some average-quality Jamaican weed from a really wasted yardie.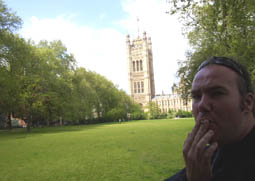 At the public meeting, Shane Collins, spokesperson for the Green Party Drugs Group, quizzed new police chief Brian Moore about why they had recently raided Sweetleaf but not Cafe Cairo. Many in the audience said it was racist, and a leaflet was circulating accusing Moore of once being part of a racist police social group, but Moore only said the now-standard police line of not being able to tolerate "blatant open dealing." Their words are significant, meaning they can choose to tolerate anything that isn't blatant open dealing, just don't push it under their noses. Both cafes remain open, and in addition coffeeshops are also open in Stockport and Bornemouth with about a dozen more planned. Coffeeshops are strongly supported in opinion polls and seem inevitable.
The next week and by chance, David Hadorn arrived in town and we paid a visit to Tony's Herbal Corner in King's Cross. The shop itself does a good trade selling health foods, with the medical marijuana dispensary tucked away down a side street and upstairs. A video camera on the door means only members can get in. The menu offered a couple of Dutch skunks, outdoor Swiss sativa, Thai, Swazi, plus Afghan and Maroccan hash. There is a great THC balm to soothe your aches and pains away, and a rooftop ganga garden in full view of nearby offices which was truly a delight to behold. It appears this medical marijuana supply operation is being left alone by police. Tony even had six boxes of Swiss marijuana delivered to him after customs had initially stopped it. Again, this is not "blatant open" dealing that the police say they cannot tolerate; it is a medical marijuana dispensary that they can tolerate.
 It was about time to investigate some blatant open dealing that is being tolerated, to see if it was better or worse than trying to force cannabis underground. I headed for Amsterdam. >>

Dutch Experience, Bournemouth, UK