Free events (R18) are happening on Saturday 7 May 2011 at: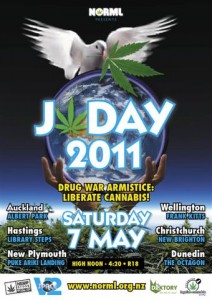 Auckland – Albert Park
Hamilton – Lake stage
Tauranga – Yatton Park
Hastings – Library steps
New Plymouth – Puke Ariki landing
Wellington – Frank Kitts
Christchurch – New Brighton (by pier)
Dunedin – The Octagon
Invercargill – venue T.B.C.
All events start at high noon and go til about 4:20.
Strictly R18 – No alcohol – No dogs – Good times!
About J Day:
J Day is an international celebration of the cannabis culture and protest against prohibition, now happening in over 200 cities around the world, on the first Saturday in May every year.
Most J Day events feature music from supportive bands and DJs, guest speakers, market stalls, cannabis information and activation. But entertainment is not really the point: come to J Day to show your support for sensible drug law reform.
J Day is a positive, happy, celebration.
How you can help:
– dress to impress
– don't bring any alcohol or dogs
– bring placards & signs
– wear your fave pot t shirt or badge
– learn your Civil Rights before you go
– help spread the word
– help us put up posters and distribute fliers
– call gig guides & talkback radio
– help us find food & market stalls
– help us clean up after the event
– 'Like' our Facebook page!
Search Facebook for local J Day pages, eg Auckland J Day, Hawkes Bay J Day, New Plymouth J Day, etc.
Thanks to all our helpers, supporters, musicians, stall operators, and our sponsors:
The Hempstore
Space V2
The Daktory
ALCP
Please contact us if you can help in any way!
Note: The full colour poster can be downloaded here.