On Saturday 7 May drug law reform organisation NORML presented J Day, the annual celebration of our cannabis culture and protest against pot prohibition.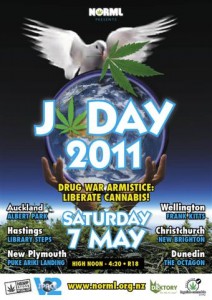 "Thousands of people gathered at J Day events all over New Zealand to show their support for the Law Commission's modest proposals to reform our outdated drug laws," says NORML's acting president Phil Saxby.
"Even though their report is still within the prohibition mindset, it contains some good recommendations for reducing the harms relating to drug law enforcement," added NORML spokesperson Chris Fowlie. "These include a '3 cautions' approach to cannabis users and social suppliers, removal of the warrantless search provisions, and a moratorium on arresting medical users."
The Law Commission also wants a complete review of the drug classification system by independent experts, and to legalise the use and possession of pipes and bongs – a proposal supported by the Nurses Association.
"The admission by the Commission that search without warrant powers should face some curtailment is a similar to the government's recent admission that cannabis has therapeutic uses," said Auckland NORML spokesperson Dakta Green. "It is a watershed admission that the crown is finally backing down."
"I am facing a criminal trial in which I am charged with selling cannabis and allowing a premise – the NORML bus – to be used to consume cannabis. These are spurious charges that I will vigorously defend. At J Day I asked supporters to attend my trial. With over 400,000 adult users of cannabis, we need to accept that the time has come to regulate the drugs market, rather than attempt to ban it," he says.
This year J Day happened in Auckland (Albert Park), Hamilton (Lake Stage), Tauranga (Yatton Park), Hastings (Library), New Plymouth (Puke Ariki Landing), Wellington (Frank Kitts Park), Christchurch (New Brighton beach), Dunedin (The Octagon), as well as informal events in Nelson and Invercargill, and more than 200 other cities all around the world.
more info: www.lawcom.govt.nz;