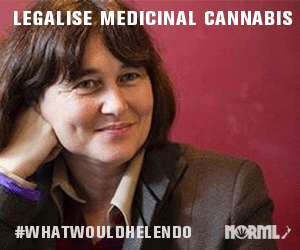 The Labour Government says it will introduce legislation within 100 days to legalise medicinal cannabis, but what does that actually mean, and would Helen Kelly approve?
By Chris Fowlie – originally published on The Daily Blog, 9 Dec 2017
The test of any proposed new law should be, "What would Helen Kelly want?" Hint: it's not expensive pharmaceutical derivatives.
In case anyone needs reminding, this is what Helen said:
"Cannabis is the only thing that gives me relief"
"It's a mild, cheap and low-key medicine being denied,"
"We need a legal supply"
"The system doesn't work and fiddling won't fix it"
"We need a good law. A better law."
"A person could die waiting right?"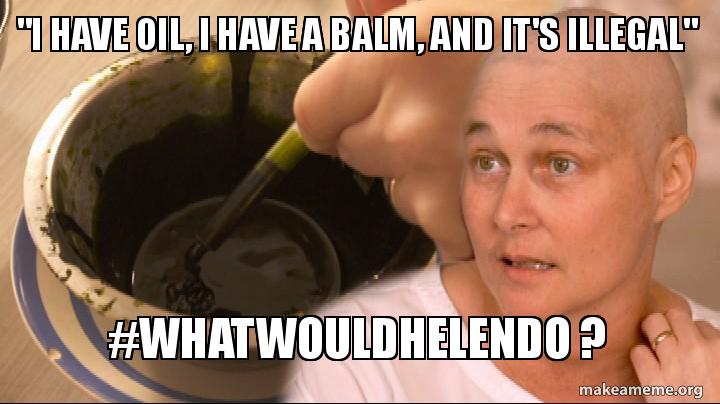 Helen was an outstanding champion of patient's rights and of the effectiveness of simple, self-made cannabis oils and balms. She was advocating not for expensive pharmaceutical-grade cannabis products but for herbal tinctures and balms that can be easily and cheaply made by anyone.
Most people understand the term "medicinal cannabis" to include real botanical cannabis that is grown by the patient or their caregiver, not just expensive pharmaceutical derivatives.
I'm sure that's what most people expect when they hear the Government will "legalise medicinal cannabis" – and polls show overwhelming public support for doing this.
According to UMR polling we conducted with Helen Kelly in 2016, 76 per cent agreed when asked"Should Parliament change the laws of New Zealand so that patients have safe legal access to affordable medicinal cannabis and cannabis products when prescribed by a licensed doctor?" 
Interestingly, almost 4 out of 5 supporters of a strict approach that requires a doctor's prescription would also support having medicinal cannabis sold as a herbal remedy.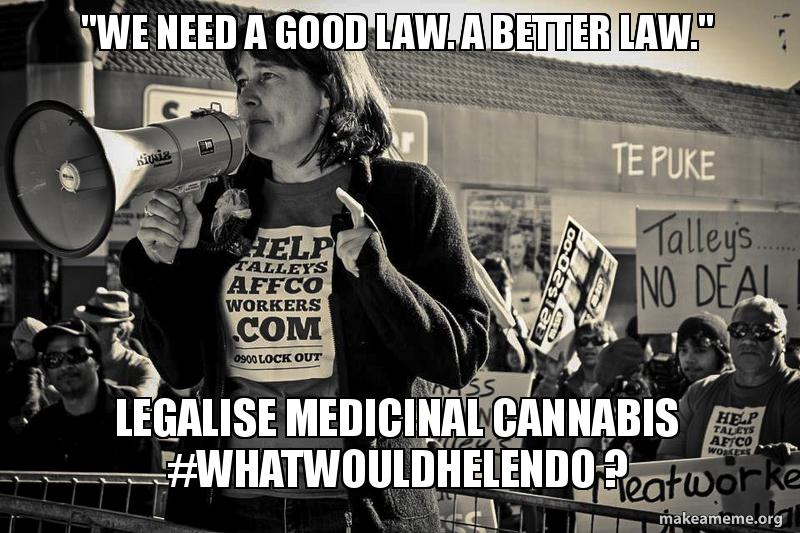 So how do we ensure the needs of patients are put first and we have legal, safe and affordable access to botanical cannabis?
For perhaps only the next two weeks we have a unique opportunity to shape this law change.
There is a need for urgent action as the window for policy decisions is pre-Xmas 2017 in order for Cabinet sign off and a Bill to be tabled by 4 February 2018 (this is the '100 Days' deadline. Our next window to influence the Bill would be during the Select Committee stage, some time later in 2018).
We need to help and support Government MPs to be bold. We need to remind Labour MPs what Helen Kelly wanted. Despite huge public support including from Grey Power and other groups across the spectrum it seems we need to remind NZ First MPs of the public's expectations (and also of the economic opportunities from domestic production, and breaking the link with meth, gangs and crime). We don't need to work on Green MPs right now, as they are all fully committed to this.
The basis of this is to take a patient-focused approach, which is what Helen advocated.
At our 2017 AGM, held last month, NORML New Zealand Inc adopted the following policy goals:
Patient focused: safe affordable access to botanical cannabis. Reforms must be meaningful. Putting the needs of patients first means a system where they are safe, legal, and can access natural (botanical) cannabis, not only pharma products. Affordability is a huge barrier for patient access. The current process is also complicated and confusing and needs to be simplified for both patients and prescribers.
Immediate effect (not just a long-term development pathway). One in twenty New Zealanders now uses cannabis medicinally, according to the Ministry of Health. Many are severely ill with life threatening conditions. These patients will not be helped with a drawn out development pathway (as in Australia). Patients need an accelerated process that allows immediate access – perhaps an interim period so products can be brought to market, and/or an exemption for self-provision.
Domestic production: via licensed providers, including small scale providers (families & individuals). The prohibition on domestic manufacture should be repealed. Producing cannabis-based products in New Zealand will bring down costs to patients (which are largely due to unreasonable pharma-grade standards, regulatory requirements in other counties, strict import controls, and so on). Domestic production would create jobs and potential export revenues. Small scale providers (including families and individuals) should have an easier pathway to being licensed, similar to driver's license or firearms license.
Self provision: choice to grow your own as a herbal remedy. We think most people consider "legalise medical cannabis" to mean natural botanical cannabis including self-provision. Patients and doctors need choices, not just pharmaceutical products but also herbal remedies. This is what Helen Kelly wanted. Self provision means it can be cheap, quick, natural, and not from gangs.
These policy goals have been endorsed by leading figures in the medicinal cannabis lobby and we are working on reaching consensus with a wider group of influencers (including readers of The Daily Blog!). Our new campaign team includes former MPs and experienced campaigners from other NGOs.
To be successful we must advocate what is possible and do-able by the Government. They won't put up a Bill that will lose or become a target for opposition attacks.
As a campaign, we must work effectively together with common purpose. While liaising with partner organisations to agree on key points, we must build an army of volunteers and activists who can carry our messages and support the Government to be bold.
All supporters of cannabis law reform are invited to join our ORC's, or Organised Response Crew. Whether or not you want to be part of this group, it is important we engage in consistent messaging and follow best practice for campaigning.
Are you ready to help? Now is the time. Contact NORML and email your MP, especially those from Labour and NZ First, encouraging them to be bold and to put patients first.
It's what Helen would have wanted.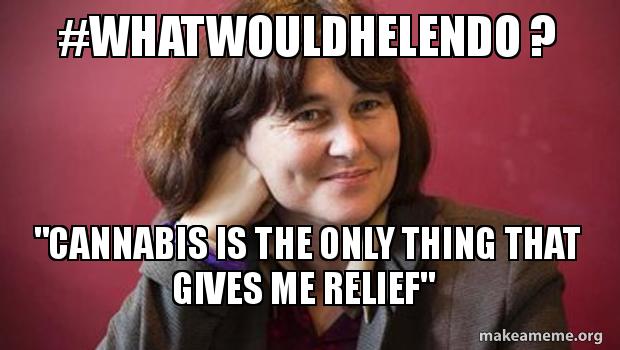 >> Share or create your own memes, using the hashtag #WhatWouldHelenDo