The first NZ medicinal cannabis patient research survey was launched on J-Day this year, drawing immediate attention with over 1300 people accessing it in the first two weeks.
The survey, which is online only, is sponsored by medicinal cannabis patient advocacy organisation MCANZ, and aims to have 2000 people complete the survey questionnaire by July 31st, when participation closes.
The 47-question survey only collects anonymous data and been approved by the national Health and Disabilities Ethics Committee, so questions about all forms of therapeutically-used cannabis may be answered safely.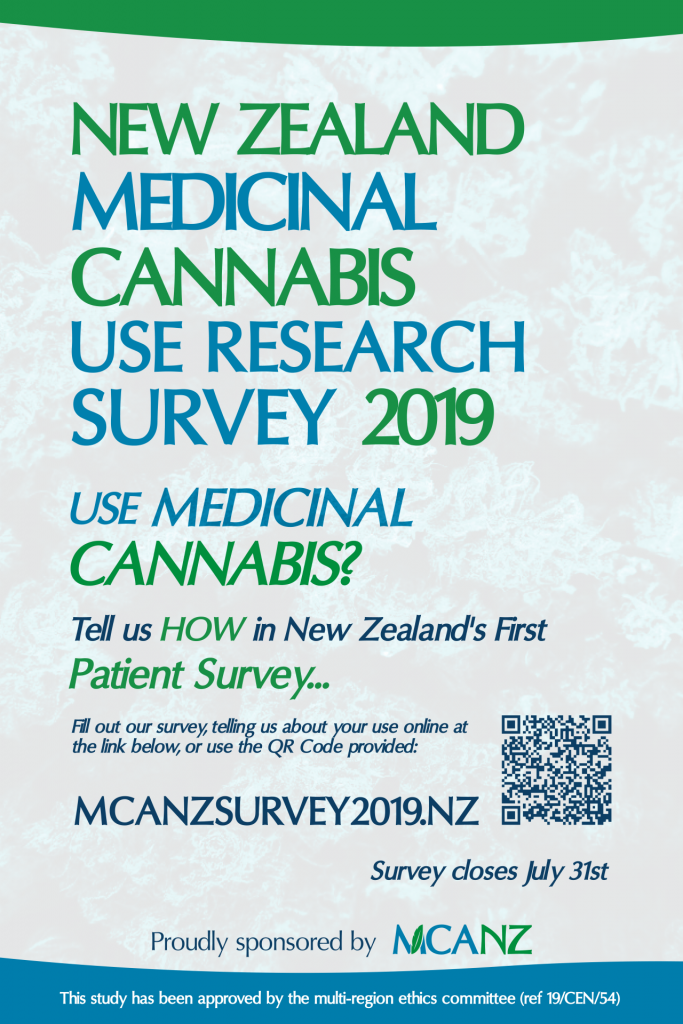 Early results are exciting and a little surprising, according to the study's lead investigator, cannabis researcher and former NORML Board member, Dr Geoff Noller.
"Unlike typical illicit drug-using populations which are dominated by males, almost 54% of those answering the questionnaire to date are female, with participants' average age being 36, and with almost half the sample earning more than the median wage."
Also differing from illicit drug statistics, the percentage of Māori participants (18%) is only slightly higher than their proportion of the general population, suggesting that those answering the online survey are different from those using cannabis overall.
Most participants report having a regular doctor (87%) and almost half (46%) see a medical specialist regularly.
However, many patients (40%-60%) do not tell their various health professionals that they use cannabis therapeutically and although patients reported that around 5% of health professionals are "completely against" medicinal cannabis, higher proportions were either "supportive" (16%) or "very supportive (10%), with GPs most supportive overall.
Nine percent of patients reported being helped to get a prescription for some form of medicinal cannabis, despite almost 40% of health professionals offering no information about it, when patients advised them they were using it.
Interestingly only 2.5% of participants so far have reported that they had been issued with some sort of certificate exempting them from prosecution if they were caught using cannabis for medicinal reasons.
This highlights how limited the current provisions in the recent Medicinal Cannabis Amendment Act are and how few people will actually benefit from this legislation.
The large number of non-terminal conditions identified by participants in the study supports this, with depression and anxiety (63%), and various chronic pain conditions commonly identified.
Patients were also asked how they commonly consumed their cannabis, with 23% identifying joints and bongs, each. Pipes were popular (17%) but vaporizers (10%) were also mentioned.
Over half the patients had been using cannabis therapeutically for more than five years, with a similar proportion saying it works better than other medicines, and nearly a third saying only cannabis provides them with relief.
Two thirds of patients did not grow any of their cannabis and on average patients spent less than $35 per week, which also suggests that expensive pharmaceutical medicinal cannabis products will not suit New Zealand medicinal cannabis patients.
Finally, around 20% of patients had ever experienced problems with the law, related to their use of cannabis for therapeutic purposes, with most of these problems involving possession for personal use. About two thirds of these patients had been convicted, with various outcomes.
Do the survey now – until July 31st
The survey runs until July 31st and the researchers are very keen for as many people as possible, who use cannabis therapeutically, to have their say. The survey is only accessible online and can be accessed via MCANZ's site or at the following link: https://www.research.net/r/MCPatientSurvey2019
A TVNZ story on the survey ran in early June and can be found here: https://www.tvnz.co.nz/one-news/new-zealand/thousands-kiwis-illegally-obtaining-medicinal-cannabis-new-research-suggests-v1?auto=6042184781001