The 25th Annual J Day is on Saturday 7th May, nationwide.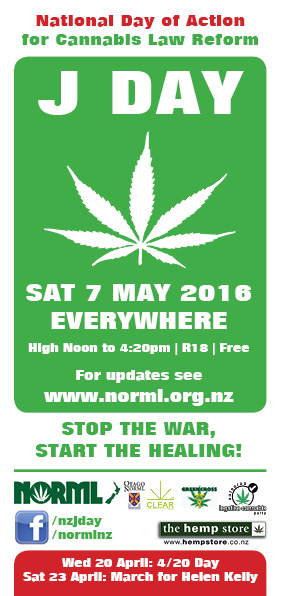 J Day is held on the first Saturday in May, in over 200 cities around the world, until the War on Drugs is over. This year's theme is: "Stop the war, start the healing".
 "J Day is a global protest against pot prohibition and celebration of cannabis culture," said national organiser Chris Fowlie. "This year we are marking not only 25 years of J Days – it began in 1992 – but also forty years of Misuse of Drugs Act enforcement, and twenty years since we founded the Aotearoa Legalise Cannabis Party. With all the talk of drug law reform lately, we have plenty to celebrate.
"NORML is calling for an immediate moratorium on cannabis arrests, because it's impossible to have a fair, even, conversation when one side is branded criminals," said Mr Fowlie.
"New Zealand's cannabis community is appealing to the Police to stop arresting people for cannabis use or possession in light of the current debate. Our police have the discretionary powers to achieve drug peace, if they want it," added Irinka Britnell, NORML NZ's national secretary and organiser of J Day in Christchurch.
"The NZ Police are already decriminalising by stealth. Let's make it an official policy so they can get on with solving crime that matters. We need to stop this insane War on Drugs, and start healing our patients and our divided communities," said Mr Fowlie.
J Day Saturday 7 May 2016 locations:
J Day is part of the Global Marijuana March, happening in over 200 cities around the world. New Zealand locations are:
Whangarei – William Fraser Park
Auckland – Albert Park (Princes St). Featuring market stalls, speeches, music from Jafa Mafia, The Triptonites, 

Exile and Biggi, Sgt. Benji, Cyrus, Ray Guevara, Cam Tokington, and Jah Merriman!



Taupo – The Black Shed (Miro St)

Hastings – Library/ANZAC Memorial
Wellington – Frank Kitts Park (Waterfront)

Christchurch – Latimer Square
Dunedin – The Octagon
All events are R18, free, and run High Noon to 4:20pm.