J Day is an international celebration of cannabis culture and protest against pot prohibition. It's the original "protestival", now in our 25th year!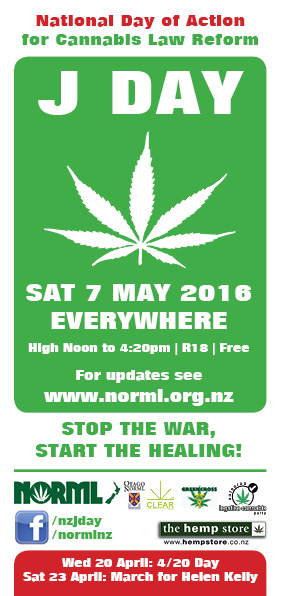 This year, 2016, also marks 40 years of enforcing the Misuse of Drugs Act (took effect 1976), 25 years of J-Day (we began in 1992), and 20 years of the ALCP (founded 1996)! Given the unprecedented coverage of cannabis law reform lately, now is the time to stand up and raise your vioce. Cannabis law reform is mainstream – only 15% support prohibition according to the latest UMR poll – so join us in making a stand. This year's theme is:
"STOP THE WAR – START THE HEALING"
Confirmed locations for J Day on Saturday 7 May 2016 are:
Whangarei – William Fraser Park


presented by TLCC

Auckland – Albert Park
presented by Auckland NORML, The Hempstore and Jafa Mafia, featuring stalls, music, djs, info booths and more. Music from

Jafa Mafia, The Triptonites, Exile and Biggi, Sgt. Benji, Cyrus, Ray Guevara, Cam Tokington, and Jah Merriman!



Hastings – Library/Anzac memorial


presented by CLEAR

Taupo – The Black Shed, 10 Miro St
presented by Dads4Marijuana
Wellington – Frank Kitts Park


presented by Wellington NORML

Christchurch – Latimer Square


presented by Christchurch NORML, Mild Greens and the Legalise Cannabis Party

Dunedin – The Octagon


presented by Otago NORML and the Legalise Cannabis Party

Also happening in over 200 cities all around the world…
Everywhere else – wherever you are, stop drop and roll at High Noon or 4:20!
All J Day events are free, and run from High Noon to 4:20pm (approx).
You can help!
Know your rights.
Dress to impress.

NORML stall at Auckland J Day.

Bring your buddies. J Day is R18.

Bring a sign, flag or banner.

Make a donation to help cover our costs.

We are looking for more local organisers and helpers. If your town or city is not listed above, how about getting involved and helping make it happen?
Musicians, speakers and stalls also wanted – please contact us.