Originally published on Marijuana Moment with information from NORML.org
As the new coronavirus continues to spread through the U.S., one of the country's leading advocacy groups for marijuana legalization is warning consumers to stop passing joints and to beware of online misinformation, including "any claims cannabis or CBD can help cure or protect against this virus."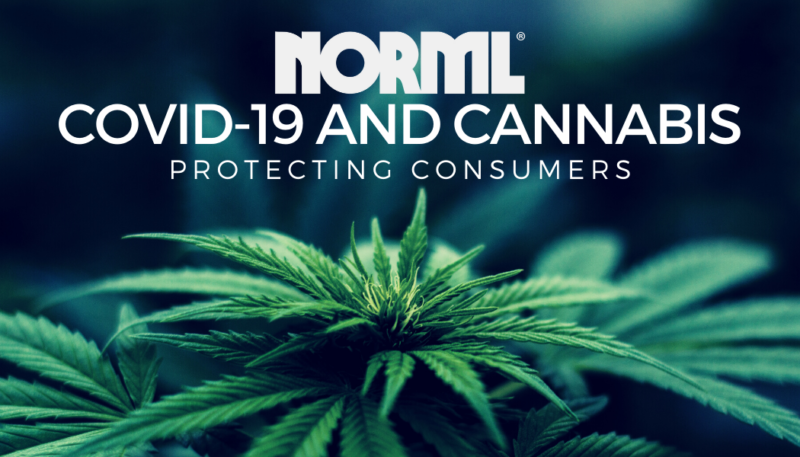 "As long as cultures have consumed cannabis, the practice of sharing a joint among friends has been a common social practice," NORML Executive Director Erik Altieri wrote in a message posted Monday to the group's blog. "But given what we know about COVID-19 and its transmission, it would be mindful during this time to halt this behavior."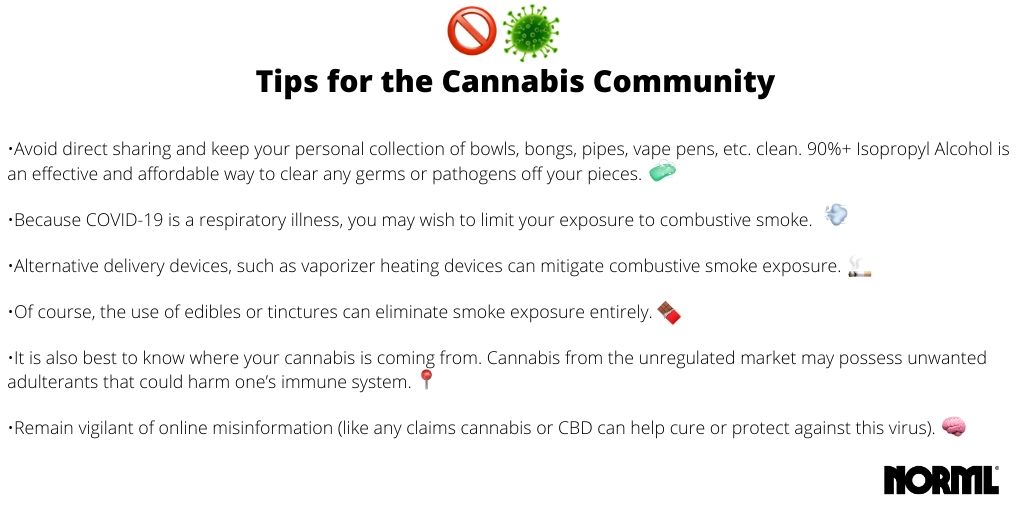 1335:44 AM – Mar 19, 2020Twitter Ads info and privacy77 people are talking about this
The coronavirus that causes COVID-19 is transmitted through person-to-person contact and particles that remain in the air when an infected person coughs or sneezes, according to the U.S. Centers for Disease Control and Prevention (CDC). That makes it risky to pass joints, glassware, vape pens or other devices used to consume marijuana—or even to be too close to someone who coughs after smoking or vaping.
"We all know a large part of what binds us together as cannabis consumers is community and sharing," Altieri wrote in the NORML post. "However, while we are living through the current pandemic we should all be more mindful of our day-to-day consumption practices, and how the choices we make impact not only ourselves, but also those we care about."
For cleaning, NORML said on Twitter that isopropyl alcohol of at least 90 percent strength "is an effective and affordable way to clear any germs or pathogens off your pieces."
NORML is also advising patients and consumers that they may want to limit smoking and vaping, as COVID-19 can cause severe, sometimes fatal, respiratory distress.
And amid unfounded claims that cannabinoids such as CBD can treat or cure coronavirus infections, NORML warned consumers to beware of such information as well as "potential scammers promoting similar claims."
The organization also advised patients and consumers to be careful where their marijuana comes from:
"Cannabis from the unregulated market may potentially possess molds, pesticides, or other unwanted adulterants that could hamper one's immune system. Whenever possible, try to obtain a lab-tested, regulated product – though we fully understand that most people in our country still live in a state that enforces prohibition and this is not a realistic option. This advice is especially pertinent for portable vaping devices, as unregulated products have been known to contain vitamin E and other dangerous additives that can harm the lungs."
For now, most medical and adult-use marijuana jurisdictions in the U.S. have allowed licensed stores to remain open. Many have declared legal cannabis retailers "essential" businesses, noting the need among some patients for a consistent supply of medicine and the public health risks of sending consumers flocking to the unregulated market. Some, including Michigan, have allowed stores to begin offering curbside pickups in order to encourage social distancing.
In a follow-up statement released on Wednesday, NORML's Altieri said the group "commends the decision of various state governments and local jurisdictions during this pandemic to designate medical cannabis facilities as 'essential' to the community. This designation permits them to continue to provide important services to patients who rely on them."
"There are several million state-licensed medical cannabis patients in America. Because many of these patients are among our more vulnerable populations, it is essential that they maintain uninterrupted, regulated access to lab-tested products during this time," he said. "Policymakers must not push these patients to the illicit marketplace because unregulated products may contain contaminants, adulterants, molds, pesticides, or other components that could potentially endanger their health."
Americans for Safe Access, a nonprofit group that supports access to medical marijuana, sent an open letter on Tuesday to governors across the country, urging them to keep stores open for medical patients and to adopt policies aimed at limiting customer interactions.
Policies in some areas have turned on a dime. San Francisco announced the closure of all storefront cannabis retailers as part of a shelter-in-place announcement, but hours later the city reversed that decision. For now, the local Department of Public Health said on Tuesday that the shops can remain open.
Cannabis is an essential medicine for many San Francisco residents. Dispensaries can continue to operate as essential businesses during this time, while practicing social distancing and other public health recommendations.1,84912:28 PM – Mar 18, 2020Twitter Ads info and privacy635 people are talking about this
NORML on Wednesday also asked followers on Twitter to let the organization know if they were "arrested / prosecuted for simple marijuana possession during the COVID crisis."
NORML✔@NORML
Anyone out there still being arrested / prosecuted for simple marijuana possession during the COVID crisis? Let us know.1827:33 AM – Mar 19, 2020Twitter Ads info and privacy91 people are talking about this
Meanwhile, coronavirus concerns and quarantines have forced drug policy reform activists to find new ways of organizing ballot campaigns that require in-person signature gathering. An effort to amend California cannabis law and a separate push to decriminalize some psychedelic drugs in Washington, D.C., have both asked officials within the past week to allow them to gather signatures online instead.
The public health response has also muddied New York's path to legalization, supported by many legislators and Gov. Andrew Cuomo (D). Last week, lawmakers introduced revised legislation in an attempt to legalize adult-use marijuana. But while the governor has insisted that the policies be enacted through the budget ahead of an April deadline, some are skeptical about that prospect as state officials prioritize a COVID-19 response.
Whether or not legalization happens in New York this year, Cuomo said Monday that talks with nearby states about the need to coordinate marijuana policies have helped enable a better regional response to the coronavirus pandemic.
"The best way is for me not only to have a uniform policy within the state of New York, but to the extent you can, cooperate with surrounding states so you all have a common set of practices," Cuomo said. "I don't want to close down bars in New York, but Connecticut leaves the bars open. Why? Because then many people will get in their car and they'll drive to Connecticut to go to a bar, which is the last thing we want."