For the 21st year NORML presents J Day: Saturday May 4th, 2013, from high noon.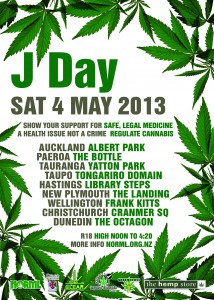 Auckland – Albert Park (in association with Jafa Mafia and

The Hempstore

)

Stage timetable:
11am WrongWay Ray
11.30 J Red
12. Rich Gilbert
12.30 Lowe 1
13.00 Azbo
13.30 Kola (Drunk Elelephant)
14.00 Fj (Jugglin Crew)
14.30 DJ Exile + MC Projectile
15.00 Issa
15.30 DJ Locksteady
16:00 BULLETPROOF & DUTTY RANX
16.30 Jafa Mafia till close
Plus 200 more cities all around the world, all calling for an end to cannabis prohibition!
Come along and show your support for NORML's three campaign goals:
Treat cannabis as a health issue, not a crime
Safe, legal access for medicinal cannabis patiens
A regulated, taxable market for cannabis and other low risk drugs
J Day features music, stalls and a positive vibe. No alcohol or dogs please. Strictly R18. Stallholders – see our contact page.