The campaign for sensible and fair cannabis laws in Aotearoa is not over. Show your support and come to J Day, on Saturday the 1st of May, a free annual community event celebrating Aotearoa's Kiwi cannabis culture and protesting against prohibition.
With 69% of voters backing legalisation or decriminalisation in a recent poll, and reform now happening all around the world, we need to keep pushing to make change happen here.
Nationwide free events

All J Day events are R18, free, and run High Noon to 4:20pm

Locations:
AUCKLAND – Albert Park
TAURANGA – TBC
HASTINGS – Anzac Mem.
WELLINGTON – Parliament lawn
CHRISTCHURCH – Latimer Sq.
DUNEDIN – The Octagon
(Other locations to be confirmed. Please contact us to get involved or help in your area.)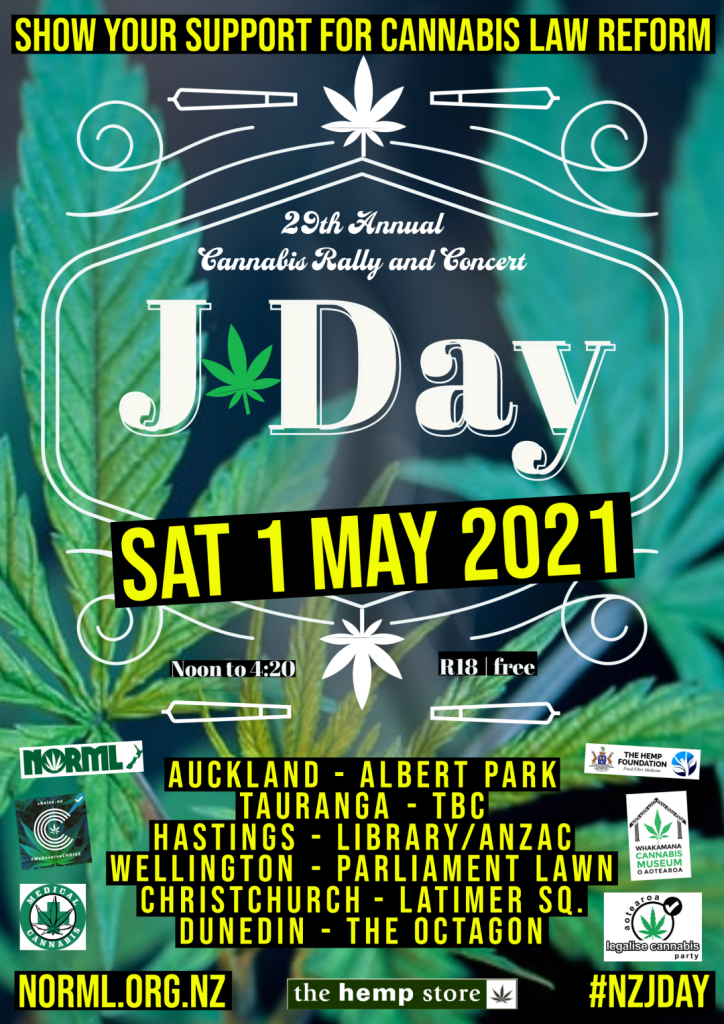 About J Day
Held every year since 1992, coming to J Day supports your rights of freedom of expression, freedom of belief, freedom of association, and acceptance of your lifestyle choices.
There will be speakers, music and entertainment. Visit the market stalls and get a bite to eat. Learn about CBD and medicinal cannabis. Volunteer to help with reform efforts.
Covid update
J Day was postponed then cancelled in 2020 due to Covid. This year we ask everyone to act responsibly and safely, by:
not sharing joints or pipes;
maintaining physical distance;
scanning the Covid QR code on entering the venue;
staying home if unwell, symptomatic, or told to isolate.
Thank you for supporting our kaupapa! J Day is a volunteer effort. For more information or to get involved with J Day, please contact us.