NORML's 2017 #TokeTheVote guide to political party cannabis policies or likely support.
Cannabis is well and truly an election issue. For the first time ever, most parties now have written policies or have taken a stance supporting reform of some description. There is a lot to consider so to help we have assessed the cannabis policies or public statements of party leaders against NORML's three core policies:
Make cannabis a health issue, not a crime (ie, decriminalise)
Safe legal and affordable access to medical cannabis
A regulated and taxed market for cannabis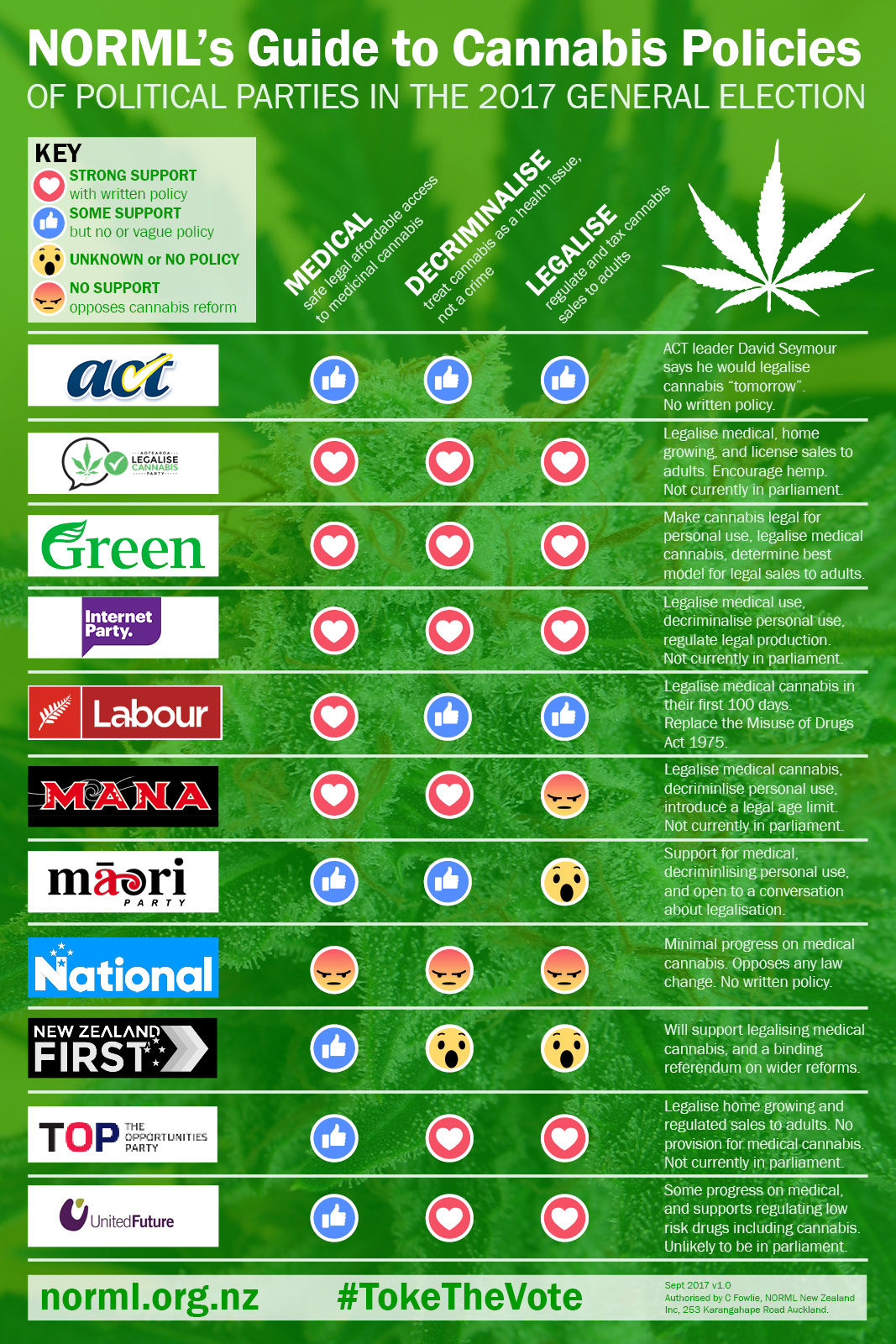 NORML's Guide to Cannabis Policies of Political Parties in the 2017 New Zealand General Election
ACT Party
ACT leader David Seymour will vote for Julie Anne Genter's medicinal cannabis bill and says he would legalise cannabis "tomorrow". ACT have no written cannabis policy – it went along with former leader Don Brash.
Aotearoa Legalise Cannabis Party
NZ's only political party dedicated to legalising cannabis, ALCP would make medical use legal, allow home growing, and license retail sales to adults. Encourage hemp for regional development. Not currently in parliament.
Green Party
The Greens would make cannabis legal for personal use (including home growing), legalise medical cannabis and allow patients and caregivers to grow their own or be prescribed cannabis products, and use overseas experience to determine the best model for legal cannabis sales to adults. Green MP Julie Anne Genter has a medical cannabis bill before parliament.
Internet Party
The Internet Party's cannabis policy is to legalise medical use, decriminalise personal use, and regulate legal production. Not currently in parliament.
Labour
Jacinda Ardern famously said "absolutely yes" to medical cannabis. Labour says it would legalise medical cannabis in their first 100 days. Labour policy is to treat cannabis as a health issue not a crime, and replace the Misuse of Drugs Act 1975. Labour MP Damien O'Connor has a medical cannabis bill before parliament.
Mana
Mana would legalise medical cannabis, decriminalise personal use, and introduce a legal age limit. Mana are opposed to legal sales to adults. Hone Harawira has called for dealers to be executed. Not currently in parliament.
Maori Party
In public statements the Maori Party say they support allowing medicinal cannabis and personal use, and are open to a conversation about legalisation. Their written policy only says Maori should be allowed access to emerging treatments including medical marijuana.
National Party
National has allowed only minimal progress on medical cannabis, and opposes any law change. Other than an election promise to "crack down" on gangs and drugs, it has no written policy. Cannabis arrests have halved under the Nats.
New Zealand First
NZ First has no written policy but in public statements says it will support legalising medical cannabis, and a binding referendum on wider reforms. Wants a new offense of public intoxication.
The Opportunities Party (TOP)
TOP's "Real Deal" cannabis policy would legalise use and growing up to 2 plants each, and regulated sales to adults through a system of non-profit clubs. However they have made no provision for medical cannabis, with leader Gareth Morgan calling it a "placebo". Not currently in parliament.
United Future
Peter Dunne has made some progress on medical cannabis, and UF now supports regulating all low risk drugs including cannabis through the Psychoactive Substances Act. With Dunne retiring, UF are unlikely to make it back into parliament.
Remember, make sure you are enrolled to vote, and vote for parties and candidates who will change the law.
---
Other guides to cannabis policies this election:
Stuff.co.nz, the New Zealand Herald, and Newshub have all produced guides to the cannabis polices of NZ political parties and candidates for the 2017 election – showing we really have made it an election issue.
Political parties don't always make it easy to work out where they stand on cannabis law.

Medicinal cannabis regulation and recreational use should be considered separately, but they're often talked about in the same breath. Some parties have an official line, others don't.

The parties with pro-reform attitudes are Labour, UnitedFuture, the Greens, ACT, the Maori Party, NZ First and – not in Parliament but vocal on this issue – The Opportunities Party and the Aotearoa Legalise Cannabis Party.

Here's a rundown:

ACT

David Seymour has said he would legalise cannabis but, in his view, public opinion was not in support of a full scale repeal of the law. The party doesn't have an official policy but has called for informed debate, indicating a pro-reform stance.

Under it's law and order policy, ACT wants a reduction in the prison population – which includes many offenders imprisoned for cannabis – and Seymour has said the debate needs to consider the social cost of any law reform.

AOTEAROA LEGALISE CANNABIS PARTY

A single-issue party advocating for full legalisation and commercialisation of cannabis for "recreational, spiritual, medicinal and industrial purposes".

MAARTEN HOLL/FAIRFAX NZ – Prime Minister

 Bill English has consistently opposed relaxing drug laws.

The party has stood in every general election since it formed in 1996, but has never gained enough votes for representation. Former leader Abe Gray resigned his office in June and joined The Opportunities Party, calling on members to do the same.

CONSERVATIVE

Leader Leighton Baker recently said calls to legalise cannabis were based on "alternative facts".

MONIQUE FORD/FAIRFAX NZ 

– Labour leader Andrew Little supports moves to lift restrictions on medicinal cannabis.

The official policy advocates a zero-tolerance approach to illegal substances, introducing harsher penalties, increasing the legal drinking age to 20 and a user-pays approach for anyone who needs hospital treatment while under the influence of drugs or alcohol.

In a recent post, Baker said there were more health risks from cannabis than benefits.

"This is a harmful drug and we need to keep reiterating that, not trying to promote it as some sort of harmless health remedy that is our right to partake of."

FAIRFAX NZ – 

The Greens are one of the few parties with a defined policy on cannabis.

GREEN PARTY

The Greens are one of the few parties with a defined policy, which supports the legalisation of medicinal cannabis and restricted personal use.

The policy would:
* Introduce a legal age for personal use
* Use evidence-based policies from overseas to determine the best model for a legal market
* Remove penalties for anyone with a terminal or chronic illness to grow and use cannabis with support from a medical professional.

WARWICK SMITH/FAIRFAX NZ – Leader Winston

 Peters at a NZ First regional campaign launch.

LABOUR

Leader Andrew Little supports moves to lift restrictions on medicinal cannabis and has said Labour would be quick to legislate.

In terms of recreational use, Little has said he doesn't think decriminalisation would work and the party has no plans to go down that track if elected.

MAARTEN HOLL/ FAIRFAX NZ – Maori Party

 co-leaders Te Ururoa Flavell and Marama Fox.

He has repeatedly raised concerns about the effects of cannabis on young people and developing brains, and wants to see more research on decriminalisation.

MANA PARTY

The party's policy foregrounds health, supporting access to medicinal cannabis, a ban on tobacco and synthetic cannabis, and a reduction in the availability of alcohol.

Under a non-discriminatory, quality health care section, the party says its policy would "Support the use of cannabis for medicinal purposes when made available under prescription from a health professional."

MAORI PARTY

The party has softened its stance in the last few months. Co-leader Marama Fox has been an opponent of drug law reform in the past, but in May she said it was time for a conversation about decriminalisation.

CHRIS MCKEEN/FAIRFAX NZ – Gareth Morgan's

 The Opportunities Party supports decriminalisation of cannabis.

Co-leader Te Ururoa Flavell criticised The Opportunities Party policy on decriminalisation as "dangling a cannabis carrot" in front of voters, but said the party was open to a wider discussion about relaxing the criminal justice regime.

NATIONAL

The ruling party doesn't have any specific pro-reform plans except tweaks to the medicinal cannabis regime, and has consistently opposed calls to relax the law around recreational drug use.

Former prime minister John Key rejected the idea of a cannabis referendum and Prime Minister Bill English said he doesn't want legalisation or any kind of trade-based cannabis industry. Health Minister Jonathan Coleman is not in favour of decriminalisation.

Officially, the Government drugs policy adheres to a harm reduction, health-centred, and crime disruption model.

The Government recently removed restrictions around the provision of medicinal cannabis, allowing doctors to prescribe a product containing cannabidiol (CBD).

REUTERS – A cannabis

 plant for sale at a medical dispensary in Seattle, Washington, where it's legal to buy the drug.

Medicinal cannabis would be treated the same as other medicines, said Associate Health Minister Peter Dunne (who is, of course, the leader of UnitedFuture – not a National MP). Smokable marijuana would not be permitted for medical use because it has not gone through clinical testing.

NZ FIRST

Winston Peters was the only political leader who backed calls for a cannabis referendum.

DAVID WHITE/FAIRFAX NZ – United Future

 leader and associate health minister Peter Dunne.

The justice policy hints at a pro-reform approach, calling for "real and enduring solutions to offending" and "attitudes which encourage rather than attack the abuse of drugs and alcohol", but does not specifically reference cannabis.

THE OPPORTUNITIES PARTY

Gareth Morgan's TOP calls for a fully-fledged Portugal-style decriminalisation approach.

In 2001, Portugal decriminalised personal use of recreational drugs, focusing on health and social costs over criminal justice and punitive remedies.

Opponents slammed the TOP policy as a cynical move to attract votes, but Morgan said he expected the reaction from career politicians "more worried about their jobs than they are about improving people's lives."

The "real deal" policy allows personal use with restrictions and aims to reduce harm by treating cannabis as a health issue, with help for heavy users with addiction and mental health issues.

The party says decriminalisation would free up $180 million in police resources and generate around $150m in revenue.

Their policy proposes:

* Licensing supply and manufacturing for "small scale regional supply" and capping the potency
* Tax based on potency levels and a minimum price set
* Regulate sales through licensing trusts, charities, or central government
* Revenue used for education, school programmes, and addiction treatment
* Allow personal home cultivation of two plants, set the legal age at 20 and ensure education campaigns discourage use until 25.

UNITEDFUTURE

Leader Peter Dunne describes the 1975 Misuse of Drugs Act as "creaking" and was instrumental in the tweaks to the existing policy around medicinal cannabis.

The party policy proposes a Portugal-style health-focused approach to possession, while retaining penalties for sale, supply and cultivation.

Class C drugs – cannabis leaf and the plant (oil, hash and "preparations" are Class B) – would be re-classified under the Psychoactive Substances Act in a move to create a regulated market for drugs that are proved safe.
---
New Zealand Herald, 4 Sep, 2017 5:00am

 6 minutes to read

More political parties are lining up firmly or cautiously behind cannabis decriminalisation – with even stronger backing for making the drug available for pain relief in certain medical cases.

There is also strong support among the public – around two-thirds support decriminalisation or legalisation of possessing a small amount of cannabis, according to a recent poll.

Decriminalisation means the drug would still be illegal, but offences punishable only by a fine with no criminal ticket, such as when a speeding ticket is issued.

Click here to view the policies interactive

Those backing drug law reform are more likely to be left-leaning, however there is still growing and majority support among National voters (60 per cent) and NZ First supporters (68 per cent).

New kid on the political block, Gareth Morgan's the Opportunities Party (TOP), made legalising cannabis use for people over 20 policy after its own polling found the issue was easily the biggest motivator for under 35s.

However, reform is unlikely under National and not a priority for Labour.

Prime Minister Bill English has repeatedly made it clear cannabis won't be decriminalised under his watch, saying the drug causes real harm.

The Labour Party says decriminalisation is not on its agenda – saying it wants to focus on housing, education and other core issues.

New Zealand First supports putting the decriminalisation support to the public in a referendum.

The Green Party has called for full legalisation and health spokeswoman Julie Anne Genter referenced TOP recently in telling voters it was her party that was the best chance for getting action.

The Maori Party has said it is supportive of a discussion about decriminalisation, but is also wary of the harm cannabis can cause.

Act leader David Seymour personally supports decriminalisation, but has said there is a risk in getting too far ahead of public opinion.

A spate of deaths linked to synthetic drugs has put the spotlight on drug law.

Associate Health Minister Peter Dunne responded by saying the problems with black market drugs showed why a regulated testing regime for psychoactive products was needed.

Legislation to set one up passed in 2013 but hasn't worked because the Government banned the use of animal testing to prove whether recreational drugs were low-risk.

Dunne, the United Future leader who is retiring from politics after polls put him behind Labour's Greg O'Connor in Ohariu, told a drug symposium at Parliament in July he favours a more liberal approach to drug law, but both National and Labour were conservative and holding back the pace of change.

The 2015-2020 National Drug Policy, developed under Dunne, has stressed drug use should be primarily seen as a health issue – a step hailed by the NZ Drug Foundation as signalling an "armistice in the War on Drugs".

And in June the Government announced that restrictions around cannabidiol, or CBD, would be removed, meaning doctors could prescribe CBD products – extracted from cannabis but with little or no psychoactive properties – for pain relief.

Yesterday National unveiled an $82m package to reduce drug addiction by introducing hardline anti-gang measures and funding 1500 additional drug treatment places in rehabilitation centres and prevention services.

Police will get new powers to search the cars and houses of gang members at any time to check for firearms, and there will be higher penalties for manufacturing and distribution of synthetic cannabis.

Finally, compulsory police vetting will be introduced for anyone working at ports, mail centres or airport baggage centres, and drug dogs introduced at domestic airport terminals.

The biggest change to New Zealand's drugs law in recent history will happen if a private member's bill by Green MP Julie Anne Genter is successful.

Likely to be debated next year, it would let people with a qualifying medical condition cultivate, possess or use the cannabis plant and/or products, provided they have the support of a registered medical practitioner.

This would also apply to an immediate relative or other nominated person so they can administer or supply cannabis to the person.

Labour, the Maori Party, and Act have said they will back it at first reading to allow a committee to consider safeguards. NZ First is generally supportive of medicinal cannabis but has not revealed how it will vote.

National has not stated how its position, or if it will be a conscience vote for its MPs.

'The difference would be massive'

Rebecca Reider uses cannabis to help cope with chronic pain. Photo / Supplied

A Golden Bay woman says legislation to free-up access to medicinal cannabis would make an enormous difference to her life and others who are currently illegally using the drug.

"The difference to my life would be massive," said Rebecca Reider, who uses cannabis because she suffers from chronic pain.

"It is hard just to get the good stuff unless you grow your own, and a lot of us live in situations where we can't. Most drug dealers don't know what strain of cannabis they have…there is no quality control and huge personal risk involved."

Reider has been an advocate for medicinal cannabis and spoken out in the media. Police raided her house a few years ago, and she now panics if she hears boots on her porch at an unexpected time.

"It is a crazy way of living knowing you are doing something illegal. It is to be able to stop living with this fear and stress that makes pain worse."

Restrictions have been loosed to let doctors prescribe cannabidiol (CBD) products that are extracted from cannabis, but Reider said they do not provide relief for her because of the low amounts of THC and limited strains.

Green MP Julie Anne Genter's bill will likely be debated next year and let people with qualifying medical conditions cultivate, possess or use cannabis. Reider spoke to the Herald from California, where she can easily get sign-off from a doctor to and go to a dispensary and choose from hundreds of varieties of cannabis.

Last year she travelled through Customs at Auckland Airport with an ounce of cannabis that had been prescribed during a visit to Hawaii after Customs confirmed the law allowed anyone who is prescribed a medicine overseas to bring a month's supply into the country.

However, Ministry of Health officials updated advice on its website on December 7 that no cannabis prescribed in US states will be considered to have been lawfully supplied unless it was approved by the US federal government.

In the six months since this change, five people were stopped by Customs at the border after declaring they were carrying prescribed medicinal cannabis.

"Most people aren't aware of that because they announced it two days after John Key resigned," Reider said. "I don't think they were really wanting a lot of attention on it."
---
The regulation of marijuana is slowly changing across the world, with many countries moving to legalise both recreational and medicinal cannabis.

In New Zealand, there have been recent adjustments to allow access to medicinal cannabis – though it is tightly controlled. At the moment in our Parliament a bill before the House proposes to legalise cannabis for medicinal use, and at least two political parties are in full support of the legalisation of recreational cannabis through a regulated market.

More policy at a glance:

Here's where the parties stand on drug policy, and in particular cannabis:

Liberalisation of cannabis law is opposed by New Zealand First – unless there is first a referendum. The party's justice policy supports "Attitudes which encourage rehabilitation rather than attack the abuse of drugs and alcohol." In terms of legalising medicinal cannabis the party is supportive, but has not yet taken a position on a bill before the house to legalise it. The party intends to decide after it has heard submissions to the bill. Read NZ First's policy.

National does not support the legalisation of cannabis. It's unclear whether the party will support a current bill before the house to legalise medicinal cannabis. While in Government National made an adjustment to the law to allow access to medicinal cannabis oil to be prescribed through medical practitioners, and Bill English has saidhe'd worry that legalising medicinal cannabis would lead to increased recreational use. The Government's national drug policy statement sets out an intention to minimise drug-related harm and promote health and wellbeing.

The Māori Party supports the legalisation of medicinal cannabis but would want to see a more robust discussion about the legalisation of recreational cannabis. The party supports a less punitive approach to drug use and more focus on rehabilitation, and an increase in kaupapa Māori drug residential treatment centres. The party would invest in more respite care bed for P addicts and more programmes for drug addiction in prisons. Read the party's policies.

ACT's sole MP David Seymour intends to vote for Green MP Julie Anne Genter's bill to legalise access to medicinal cannabis for those suffering a terminal illness or debilitating condition. He said while cannabis prohibition is failing, there's not enough broad public support for full legalisation. ACT wants the Government to officially and closely study places that have legalised cannabis to assess the costs and benefits.

The Opportunities Party (TOP) supports the full legalisation of cannabis. People would be permitted to grow no more than two plants at home but other than that it would be illegal to grow or deal cannabis outside of the regulated market. The age of use would be 20, but the recommendation would be not to use cannabis under the age of 25. TOP estimates the cannabis market would generate $150 million in tax revenue, to be used to fund drug and alcohol education and rehabilitation. Read the party's cannabis reform policy.

The Green Party also wants to legalise cannabis for personal use – including possession and cultivation – with a legal age limit. They would establish a licensed, regulated market with a minimum age requirement to be confirmed through the legislative process. Green MP Julie Anne Genter has put forward a bill to legalise medicinal cannabis and allow any person with a terminal illness, chronic or debilitating condition to grow, possess or use cannabis and cannabis products for therapeutic purposes. The party wants drug laws to be based on promoting health, rather than punishing users. Read the Green party's drug policy.

Labour supports the legalisation of medicinal cannabis, but leader Jacinda Ardern said the legislation of recreational cannabis would be a conscience issue and the party is not campaigning on it. Labour is in favour of treating cannabis use as a health issue, and dealing with it through the drug court. Ms Ardern was concerned about youth accessing the drug and believes it is harmful for young people, and hasn't commented on what position she would take in a conscience vote to legalise cannabis.
 Authorised by C Fowlie 253 Karangahape Road Auckland