MEDIA RELEASE THURS 31/08/2017
FROM NORML NEW ZEALAND INC & AUCKLAND PATIENTS GROUP
Patients, caregivers and supporters of safe legal access to natural affordable cannabis will march down Queen Street in Auckland, this Saturday 2nd September. 
The Government's recently announced changes for cannabidiol, a non-psychoactive ingredient of cannabis, will take effect the following Thursday 7th September.
Doctors will no longer require special permission to prescribe cannabidiol products. However there are no authorised cannabidiol products for doctors to prescribe, and patients will not be able to import their own even if they have a prescription.
March organisers believe the changes do not go far enough, and criminalisation remains an issue.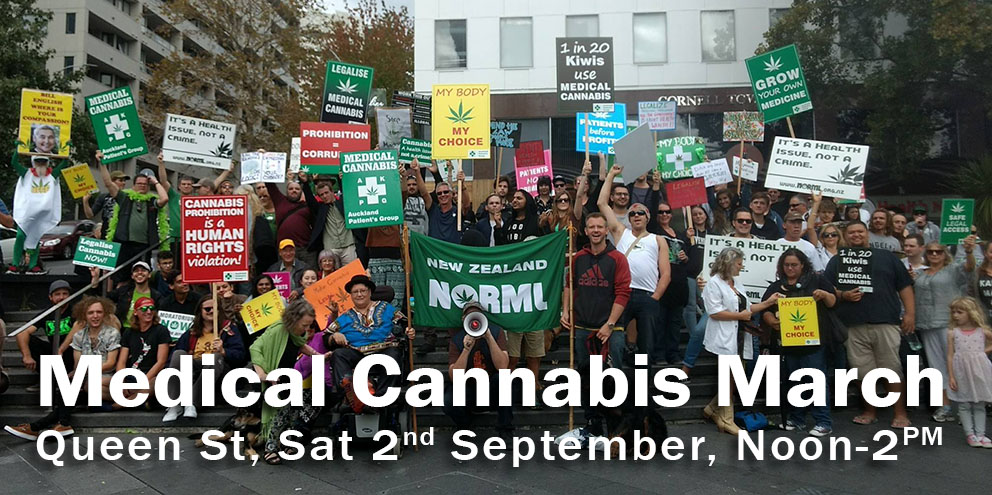 "Patients need easy, safe and affordable access to natural medical cannabis," said Chris Fowlie of NORML NZ. "These are steps in the right direction, but it'sa herb anyone could grow at home."
Auckland Patients Group leader Pearl Schomburg will call on the Police Commissioner, Mr Mike Bush, for a moratorium on medicinal cannabis patients and their supporters "until the unjust laws upholding cannabis prohibition are altered to reflect good science, medical studies and the will of the people as shown by numerous current polls."
"Opinion polls show increasing support for cannabis law reform, and all of our major parties except National now support some form of law change," added Mr Fowlie.

Labour leader Jacinda Ardern recently said "young people in particular" shouldn't be doing time for possession, however National Party leader Bill English recently said cannabis should remain illegal.
Confirmed speakers include:
Pearl Schomburg – Auckland Patients Group
Chris Fowlie – President, NORML New Zealand Inc
Khylee Quince – Centre for Non-Adversarial Justice, Director of Maori and Pacific Advancement, AUT School of Law
Prof. Max Abbott – Dean, Pro Vice-Chancellor (Nth Shore), Co-Director National Institute for Public Health & Mental Health Research, Professor Psychology and Public Health
Dr Graham Gulbransen – GP & Addiction Specialist
Tadhg Stopford – Cannabis Educator
Arik Reiss – Director of DrugLawed
Chris Woodney – Govt relations, NZ Hemp Industries Association
Martyn Bradbury – editor, The Daily Blog
Cinnamon Whitlock – Maori Party candidate for Kelston
Tracey Martin – NZ First MP and spokesperson for Education, Women, Broadcasting and IT
Julie Anne Genter – Green Party MP and spokesperson for Health, ACC, Sport & Recreation, Transport, Auckland Issues, Youth and Assoc. Finance.
Ricardo Mendénez – Green Party candidate for Mt Roskill
Mika Haka – TOP candidate for Auckland Central
Vinny Shiriwastow – ALCP candidate for Papakura
Maki Herbert – co-leader ALCP
Fats White – Musician performing his song 'Mary Jane'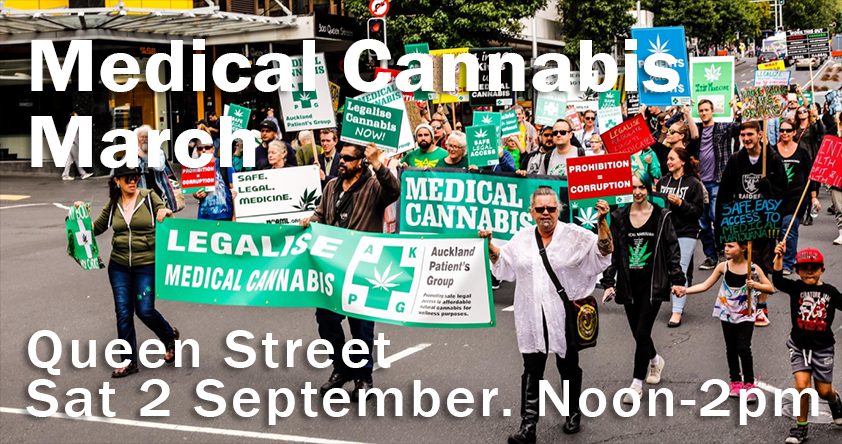 Presented by NORML NZ and Auckland Patient's Group, this rally is part of our series of monthly rallies intended to raise awareness of medical cannabis, the plight of patients, and options for law reform. Previous rallies were held on 22 April, 1 July and 5 August 2017. 
Saturday 2nd September – rally at Noon, march at 2pm

Queen Street, opposite Aotea Square
For more information see
Auckland Patients Group Facebook page (https://www.facebook.com/AuckPatientGroup/)
NORML NZ website (https://norml.org.nz/2017/medical-cannabis-queen-st-rally-and-march-sat-2-sept/)