A new poll conducted for cannabis campaigners shows New Zealanders want the law changed now, says NORML. 
"What may be surprising to some is that most people want herbal cannabis sold at health food stores for therapeutic purposes, alongside the Marjoram," said Chris Fowlie, spokesperson for the National Organisation for the Reform of Marijuana Laws (NORML NZ Inc).
The poll was conducted by UMR for Start the Conversation from 29th July to 17th August 2016.
The poll will be used by the group, which includes representatives of NORML, to decide whether to proceed with organising a cannabis law reform referendum to coincide with next year's general election.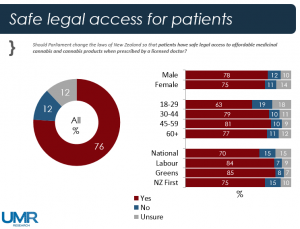 76 per cent agreed when asked "Should Parliament change the laws of New Zealand so that patients have safe legal access to affordable medicinal cannabis and cannabis products when prescribed by a licensed doctor?"
Only 12 per cent were opposed to this law change – including just 15% of National Party voters – with a further 12 per cent undecided.
URM's previous cannabis poll in March 2016 reported that 72% of respondents agreed with "the use of marijuana being allowed for medical purposes".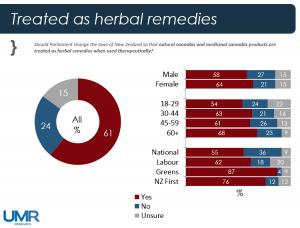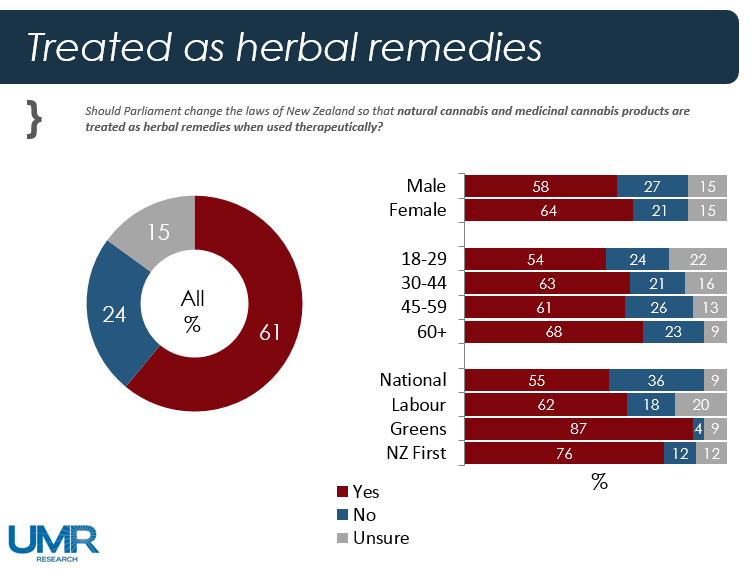 In the latest poll, respondents were also asked "Should Parliament change the laws of New Zealand so that natural cannabis and medicinal cannabis products are treated as herbal remedies when used therapeutically?"
This was supported by 61 per cent of respondents, opposed by 24 per cent, with 15 per cent undecided.
"Support for medicinal cannabis does not collapse when the proposed model treats medicinal cannabis like a herbal remedy rather than a pharmaceutical," Chris Fowlie noted. "Four out of five supporters of a strict approach that requires a doctor's prescription would also support having medicinal cannabis sold as a herbal remedy at health food stores."
Mr Fowlie had a hand in formulating the questions, and says the two variations where chosen to test support for medicinal cannabis law reform and to see what would be supported in a referendum.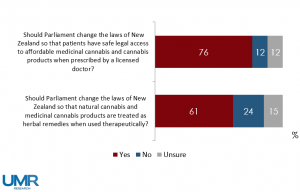 Mr Fowlie says he was "not surprised" there was such strong support for an approach that would classify natural medicinal cannabis as a herbal remedy, allowing it to be obtained from health food stores, as this was the sort of thing he was hearing on the street and in social media.
"This depth of support was also shown in the recent NZ Drug Foundation Curia poll, where support for medicinal cannabis when limited to patients with a terminal illness was 82 per cent, and only dropped three per cent if it was allowed for "any medical condition"", added Mr Fowlie.
"The recent Curia poll revealed 65 per cent want cannabis either decriminalised or made legal. This new UMR poll shows a healthy majority want natural cannabis treated as a herbal remedy, and made easily available at health food stores, when it is used therapeutically."
"John Key thinks cannabis law reform sends the wrong message, yet NORML's message is getting through. Most New Zealanders now know cannabis is not only safer than alcohol but is also an effective remedy for a variety of conditions, and they want the law to change."
"The message John Key needs to hear is that very few people support the status quo, including National Party voters, and he ignores them at his own peril," said Mr Fowlie.
BACKGROUND INFORMATION:
Start The Conversation is a group representing cannabis and community activists, researchers and policy analysts throughout New Zealand, including NORML, Helen Kelly, Prof Max Abbott, Dr Geoff Noller, The Cannabis Party, Medical Cannabis Awareness NZ, It's Medicine (Rose Renton), MildGreens and more. Start The Conversation organised a cannabis debate at the Auckland Town Hall in June, which led to this poll, and is holding its next community forum in Whangarei on Saturday 17th September.
Chris Fowlie is NORML's spokesperson and a candidate for the Waitakere Licensing Trust in this year's local body elections. He is running on a ticket of "Regulate Cannabis Like Alcohol", and says under the current law the Trust could run Cannabis Social Clubs for medicinal and/or research purposes. As with West Auckland liquor sales, any profits would be returned to the community.