The Greens' Medicinal Cannabis Bill will have it's first vote in Parliament next Wednesday 31st Jan. This is sooner than we expected, so it's really important to hit that keyboard and urge your MP to support the bill.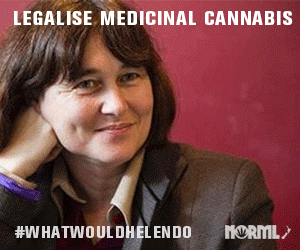 Here are some reasons you can use:
The public wants it, with over 80 per cent support for legalising medicinal cannabis in almost all polls.
Let the Bill go to Select Committee so the public can have their say in what they want in a medicinal cannabis law
The Labour/Govt Bill does not resolve the most pressing issues that people expect Parliament to address:

The Labour/Govt Bill does not provide relief for people with chronic pain or any other non-terminal condition that cannabis-based medicines may alleviate;
The Labour/Govt Bill does not allow terminal patients to grow or obtain medicinal cannabis even though they'll have a statutory defense for using or possessing it;
The Labour/Govt Bill does not protect providers of medicinal cannabis (those making balms, tinctures, etc), these are often family or friends and if they are arrested the patient loses their access;
and The Labour/Govt Bill does not actually allow domestic production as it fails to amend s14(3), which prohibits issuing licenses to manufacture a controlled drug for consumption other than research or study (ie, no actual products can be made here).

The Greens' Bill resolves all these issues. At the very least, it should go to Select Committee for further discussion and public input.
Green MP Chloe Swarbrick has asked for public support in a really informative video posted to Facebook this week. It has all the facts you need.
Take a few moments to email your local MP or any MP you feel represents you (their easy to remember generic format is firstname.lastname@parliament.govt.nz) or leave a constructive message or comment on their Facebook page. If you see any MPs out and about weekend be sure to raise the issue with them!
If you are in Wellington or can travel there, be at Parliament for the vote. It's really important to demonstrate support in real life, as they are about to determine the fate of thousands of New Zealanders suffering in pain and from a variety of ailments that cannabis can alleviate.
Their contact details are also here: https://www.parliament.nz/en/mps-and-electorates/members-of-parliament/
This will be a conscience vote, meaning MPs vote in the best interests of the country, rather than their party. Prime Minister Jacinda Ardern and Health Minister David Clark have both said they will vote for the Green's Bill, at least to select committee stage.
In particular we need to target Labour MPs of the more conservative variety, all NZ First MPs, and National MPs of the more liberal variety.
NZ First MPs are the reason why Labour's Bill is watered down. They are why Julie Anne Genter is not Minister in charge. They are why protection was not extended to those suffering in chronic pain. They are the most important MPs to help sway.
We also think a few Labour MPs won't vote for the Greens' Bill, so we need perhaps 10 to 15 National MPs to vote for it. It's a big ask, but if they listen to the public or have an ounce of compassion they should support this Bill.
Be sure to let NORML or other cannabis reform advocates know how you get on.
There is a silvery-green lining even if the Greens' Bill fails to pass, which is why I think they've put it up for a vote now: it will flush out opponent's arguments and provide a measure of where Parliament is at ahead of the vote on the Government's own Bill. If it fails to pass that will increase pressure on the Govt to make substantial changes to their own lacklustre Bill.
They'll have a better idea of what additional reforms Parliament is likely to support – and we'll know who to vote for next election!
Originally published on The Daily Blog, 26 January 2018