By Chris Fowlie. Originally published on The Daily Blog, 15 October 2019
The cannabis referendum campaign has so far been characterised by secrecy, misinformation and lack of a clear plan or known model to discuss. We've slipped backwards in some polls. But now there is a model designed to win the referendum. It's called CHOISE, and it puts opportunity, investment and social equity centre-stage. CHOISE is a version of cannabis legalisation where everyone wins – and that makes the referendum winnable.
Throughout this year the moralising crusader Bob McCroskie and his Family First group have spread fear and loathing of the anti-drug kind. There has been a panic-inducing drop in polled support for legalisation. It seems many people have concerns over the potential implications of legalisation – imagined, or otherwise.
There has been several encouraging developments over recent weeks: the Prime Minister's Chief Science Advisor has convened a group of experts to settle claims about the health effects of cannabis and assess the effects of decriminalisation and legalisation; the Helen Clark Foundation eloquently made the case for a Yes vote (because, in the words of Helen Clark: whatever the model put forward, it will be better than what we have now); organisations like #MakeItLegal and Health Not Handcuffs are preparing to mobilise ground level campaigns; and the NZ Drug Foundation released a policy, called Taking Control of Cannabis, that sets out in more detail how legalisation could work and discusses the various trade-offs that occur with various policy setting.
For example, setting a higher age limit for legal access could promote a large illicit market targeting young people, banning public use can lead to increased arrests, and advertising restrictions can inhibit the effectiveness of legal markets. Taking Control of Cannabis builds on what the Government has announced so far, and provides a lot of food for thought, but – as is typical with easily digestible reports on complex policy areas – in many ways it raises more questions than provides answers.
Paddy Gower's recent documentary On Weed was highly popular and got people talking. The "all or nothing" binary approach to law reform he presented wasn't especially helpful in increasing understanding of the referendum. In fact, the show barely mentioned the referendum. That's a shame, because it doesn't have to be done in the way presented in the show: either double-down on prohibition or a free-for-all rigged for the benefit of a few rich people and offshore companies.
Instead, New Zealand can have a referendum model that creates opportunity for a wide variety of people to be involved and removes barriers to going legal, directs investment into areas and services where it is most needed, puts social equity at the heart of any reforms, and builds incentives for good behaviour by market participants. Such an approach would not only be an inherently better approach, it should also – theoretically – be more popular among the voting public.
The policy is being developed now. The Ministry of Justice has recently held a series of wananga throughout Aotearoa to consult Maori stakeholders and seek feedback about how laws impact Maori now and what outcomes they are seeking from any new law. I recently met with the officials to discuss ways the model could improve the social and economic wellbeing of New Zealand.
To help focus the debate, Massey University has partnered with Otago and Auckland universities to bring to New Zealand several global experts on various policy models. These include Professor Beau Kilmer of the RAND Corporation Drug Policy Research Center (United States), Associate Professor Rosario Queirolo of the Catholic University of Uruguay, Latin American Marijuana Research Initiative, Uruguay, Professor Simon Lenton from the Australia's National Drug Research Institute at Curtin University, Professor Tom Decorte of Ghent University in Belgium, and Professor Benedikt Fischer (now with the Faculty of Medical and Health Sciences, University of Auckland), who helped write Canada's version of legalisation. I'm joining a bunch of policy wonks, experts and influencers in Wellington to thrash out some ideas with them, using a facilitated decision-making process. There will also be a series of free public events this week:
Wellington: Tuesday 15 October, 6-8pm. Wharewaka Function Centre, 2 Taranaki Street.
Auckland: Thursday 17 October, 6-8pm. Auckland University Science Building 301 (Large Chemistry Theatre) 23 Symonds St.
Christchurch: Friday 18 October, 4:30-6:30pm. Otago University, Rolleston Lecture Theatre, 2 Riccarton Avenue.
Broadly speaking, options range from strict or relaxed prohibition, decriminalisation and de facto reforms (ie tolerance), non profit or state control, tight regulation, through to lax regulation and free markets.
After 25 years of lobbying, meeting experts and seeing first-hand the effects of our laws and those in many jurisdictions overseas, I have a fair idea of what the law should be – if it were up to me. But it's not up to me. It's up to you, and 3 million other voters. So, I'm proposing a middle of the road policy that is designed to win the referendum. I'm keeping my mind open, and have compromised on many things, so we can have a model that is most broadly supported.
Introducing CHOISE, a model designed to win the 2020 cannabis referendum.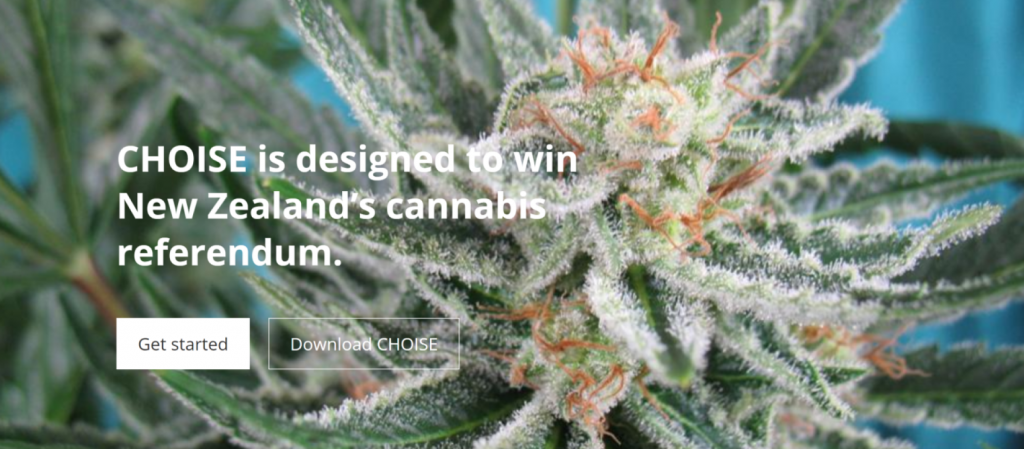 The Cannabis Hemp Opportunity, Investment and Social Equity model (CHOISE) is an ongoing project I have instigated that promotes policy settings intended to have the best chance of winning the 2020 cannabis referendum and provide the greatest improvement to social and economic wellbeing in New Zealand.
Simply put, the CHOISE model allows hemp to be part of the medical and adult-use cannabis supply chains, driving down costs and putting NZ on a level playing field with other countries; it creates opportunity by providing economic benefits and removing barriers to going legal; it directs investment – generated from sales levies – into local communities and services that are most needed; and promotes social equity by using a points-based licencing system to achieve positive outcomes such as retaining economic benefits onshore, supporting ethical local businesses, and righting previous wrongs. You can read all the detail on the choise.nz website.
Crucially, the points-based licencing can be adjusted as the legal industry develops. Too many offshore corporates? Adjust the formula so locals get bonus points. Not enough Maori applicants? Adjust the formula so those most affected by previous policies get a head start.
The CHOISE model or one like it can successfully promote the aspirations of Maori and enhance regional development. For example, there could be bonus points given towards applicants that are:
Maori controlled – either Iwi, Authorities or privately owned
Social enterprises that have goals wider than profits
Located in regions that have suffered disproportionately
Employing a greater proportion of Maori
Employing those with cannabis criminal records, giving them a fresh start.
CHOISE also directs sales levies to be invested into local communities and those who need it most, including drug treatment and education services, local schooling, law enforcement, and applicants locked out from going legal. This means the benefits of the legal economy are more widely enjoyed especially at a local level, further locking in support.
It's worth noting the CHOISE model doesn't limit applicants to only social enterprises: a regular business could still make the cut by voluntarily undertaking a range of activities to be awarded enough points. The model encourages good behaviour, no matter the ownership structure. The points formula can be adjusted for successive rounds of licensing applications based on who has already been approved. Some components could also be made compulsory.
Models that promote social equity are increasingly popular overseas, including Illinois, Massachusetts and Los Angeles. CHOISE also allows home growing. Self-provision is considered an essential part of any model, making it consistent with alcohol, tobacco and herbal remedies, and also providing an important check and balance to the legal market regarding issues of equity, affordability, quality, supply chain capability and timeliness.
Whatever model is adopted for the referendum, it must strike a balance between the needs of consumers and creating a functional market, with the concerns of those who currently oppose law reform, so that it will pass.
CHOISE is designed to be broadly supported and win the 2020 cannabis referendum. CHOISE builds on what the Government has announced so far, and the policy recently issued by the NZ Drug Foundation. CHOISE encourages social enterprises over "Big Business" and allows private social clubs not flashy storefronts. CHOISE fosters good behaviour, has sensible controls which put safety first and heed the concerns of non-consumers, and provides specific details other models lack.
As an ongoing project, the CHOISE model will be further refined in response to feedback, advice and events as they unfold. I'm not under any delusion that this model will be adopted in its entirety or that I have more influence than anyone else. But I genuinely think these are good ideas and this will be worthwhile if any aspects of the model get picked up, or if it helps shape the flavour or outcome of the referendum, or even if it just gets people talking about the ways legalisation could be used for common good. Please read the model, give me some feedback, and if this is a model you can believe in (or at least live with!), then please share it with your networks and let's get a conversation going.