Cannabis law reform supporters and advocates will gather for nationwide events on 'J Day' this Saturday 6th May, 2017. 

J Day is a worldwide protest against prohibition and a celebration of Kiwi cannabis culture, held on the first Saturday in May every year. This Saturday is the 26th Annual national day of action supporting cannabis law reform, including safe legal access to medicinal cannabis.
To mark the occasion NORML and our cannabis law reform colleagues organise free events nationwide. J Day is where supporters of cannabis law reform can meet like minded people, relax without fear, learn how they can help make cannabis legal, join their local group and meet other cannabis advocates.

"With an election soon it is important people show their support," said J Day's national coordinator Chris Fowlie, of Auckland. "For the first time there are multiple parties contesting the election who advocate for cannabis law reform. The Greens have been joined by Labour and the Maori Party, as well as ACT, TOP and the Cannabis Party. Even United Future is on the side of reform!"
"We agree cannabis should be a health issue, not a crime, and there are too many cannabis users to arrest."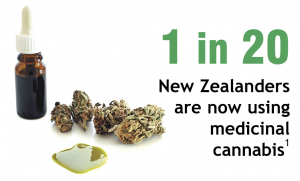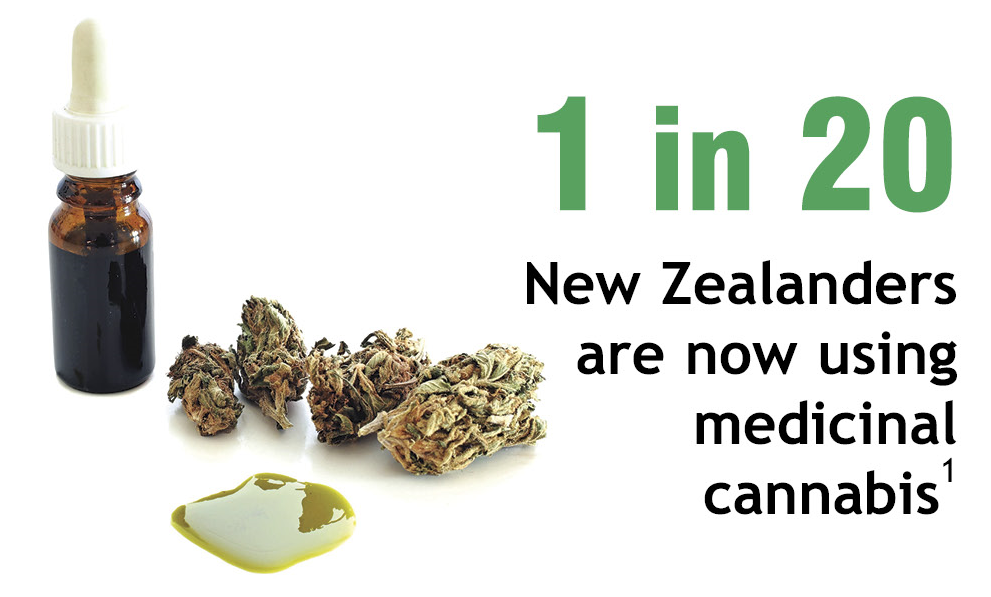 "One in twenty Kiwis use cannabis medicinally. They need safe and legal access to affordable natural cannabis and medical products, including the right to grow their own medicine."
Following the example of Canada, Uruguay and the Netherlands, NORML would also like to see a regulated taxable market for the adult use of cannabis.
"Treasury estimates this would save $300 million in policing costs while raising an additional $500 million in revenue," said Mr Fowlie. "Overseas experience shows drugs policy changes do not have significant effects on rates of use but can significantly reduce harms associated with drug use or the law."


"We have made much progress over recent years, with a halving of cannabis arrests, increased access to medical products, and the green-lighting of hemp seed foods, but we still have a long way to go before New Zealand catches up with cannabis reforms in the rest of the world," added Mr Fowlie. 
J Day confirmed locations for this Saturday 6 May 2017:
WHANGAREI – William Fraser Park
AUCKLAND – Albert Park
HASTINGS – Library/ANZAC
TAUPO – The Black Shed
WELLINGTON – Aro Park
NELSON – Tahunanui Beach
CHRISTCHURCH – Latimer Square
DUNEDIN – The Octagon
INVERCARGILL – Queen's Park
All events are R18, free entry, and run from High Noon to 4:20pm (approx).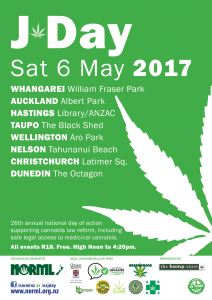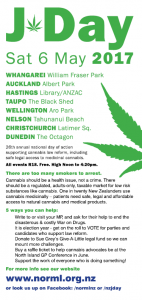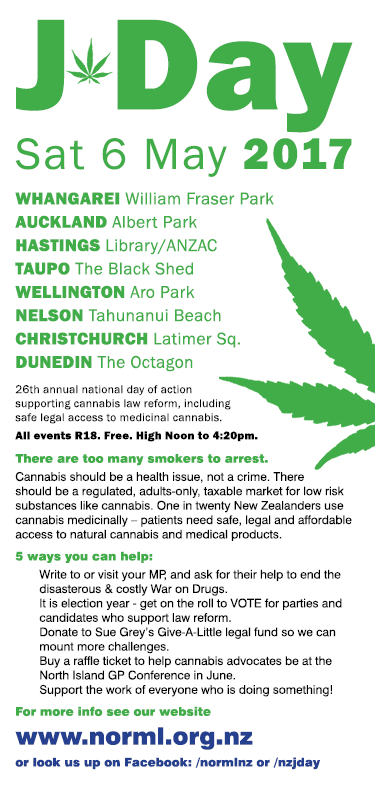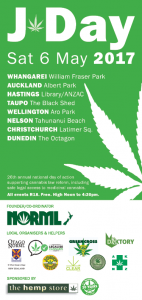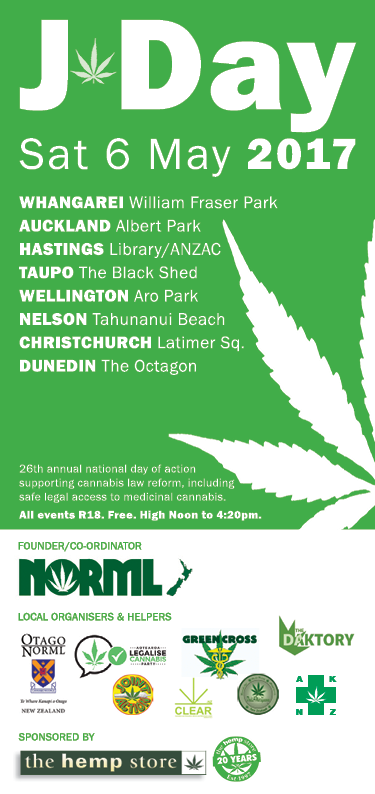 J Day is presented by NORML NZ Inc with local events organised by local groups including The Cannabis Party, Green Cross, Auckland Patient's Group, Whangarei Daktory, CLEAR, Joint Action, Dads4Marijuana, Otago NORML, and Christchurch NORML.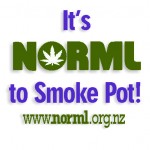 See also https://norml.org.nz/campaign/j-day-is-the-first-saturday-in-may/