Bill English has shown how out of touch he is with the New Zealand population once again, spouting oddly ignorant views on medical cannabis.
Despite a vast majority of Kiwis favouring the legalisation of medicinal cannabis, English yesterday unscientifically claimed "large-scale use of marijuana is pretty bad."
In response, medicinal cannabis users and allies today are announcing they will march down Queen St later this month, supporting safe legal and affordable access to medicinal cannabis. Others around the country are invited to organise simultaneous marches.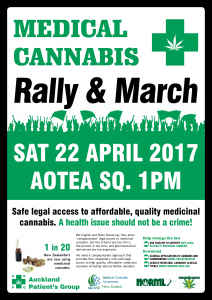 The 2017 Medical Cannabis Rally and March is a follow-up to the Medical March held last year
"Every day that goes by is another day of suffering and criminalisation for many thousands of patients in New Zealand," said Pearl Schomburg, convener of Auckland Patients' Group, a group of patients, caregivers and medical cannabis advocates based in Auckland.
'We are marching to show Bill Engish that we do not condone his callous and inhumane attitude towards patients. We demand an immediate moratorium on prosecuting patients and supporters until this fiasco is resolved."
Bill English said on the AM Show yesterday: "We don't want a marijuana industry, we're not gonna be legalising it… We just think the long-term damage of large-scale use of marijuana is pretty bad."
English was responding to a report on The Nation last weekend in which oncologists said half their patients are using cannabis to ease their suffering, and following a raid by Police of Auckland tetraplegic Ben Clifford, who uses cannabis medicinally, and who was then abandoned by his state-provided care agency.
English claims there is already a legal route for patients to get cannabis products.
"It's ridiculous to claim we have legal cannabis access in New Zealand," said medicinal cannabis user Rebecca Reider, who was prosecuted last year. "All over this country, people are living in a state of illegality and fear on top of their health issues."
English's position, utterly at odds with the public, is particularly surprising in an election year.
A (non-scientific) poll on the Newshub website yesterday found 94 percent of respondents wanted to "legalise cannabis for medicinal purposes".
"Bill English has finally dispelled the myth that the current government is ever going to do anything," added Chris Fowlie, spokesperson for NORML. "Now we know the only way to change the law is to change the government."
Both the Green Party and Labour have pledged to ease medical cannabis access if elected to government.