Cannabis law reform magazine Norml News, which both Police and Internal Affairs recently tried to ban, has just released its Winter/Spring 2010 issue, including revelations about how and why the magazine nearly got permanently suppressed.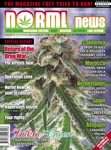 "Immediately prior to the Operation Lime raids in April, police went to the Dept of Internal Affairs and discussed the magazine," Editor Chris Fowlie said today. "Soon after, Internal Affairs requested a ban on Norml News, but that request was refused and we're still here."
Documents uncovered by NORML under the Official Information Act reveal that Internal Affairs officers fronted a covert police initiative to get Norml News banned entirely. The Chief Censor's office didn't go that far, but did decide to classify three previous issues of the magazine as R18 publications. NORML plans to appeal the decision.
The latest issue of Norml News investigates what took place during Operation Lime and concludes that the Government has brought back the War on Drugs, especially their war on NZ's 400,000 cannabis users.
"Playing to the 'tough on crime' crowd, Judith Collins and Simon Power both seem keen on ramping up the War on Drugs," Mr Fowlie said.
The theme of this issue is "Return of the Drug War". It reveals that in addition to a massive increase in pot arrests, their plans for tougher laws include a ban on pipe parts and an attack on civil rights.
"But in doing so, they lead the Government further out of step with best evidence and in the opposite direction from what countries overseas are now realising is the better way."
This issue of Norml News highlights new cannabis social clubs in Belgium, the liberal laws of Spain, traditional cannabis culture in Morocco, as well as medicinal and recreational cannabis law reform around the world, including the USA.
Mr Fowlie continued: "This November, Californians will vote on legalising and completely regulating cannabis. Polls show that it will most likely pass which means their state will become the model for other US states – and interested nations like New Zealand – to follow."
"Norml News will continue to cover these and other developments affecting the cannabis community, whether or not the police and their political masters like it," he said.
Norml News is now on sale in over 150 outlets nationwide.