Medical Cannabis Rally and March – Election Special
Aotea Square, Queen St, CBD, Auckland
Saturday 2 September 2017 12:00pm – 2:00pm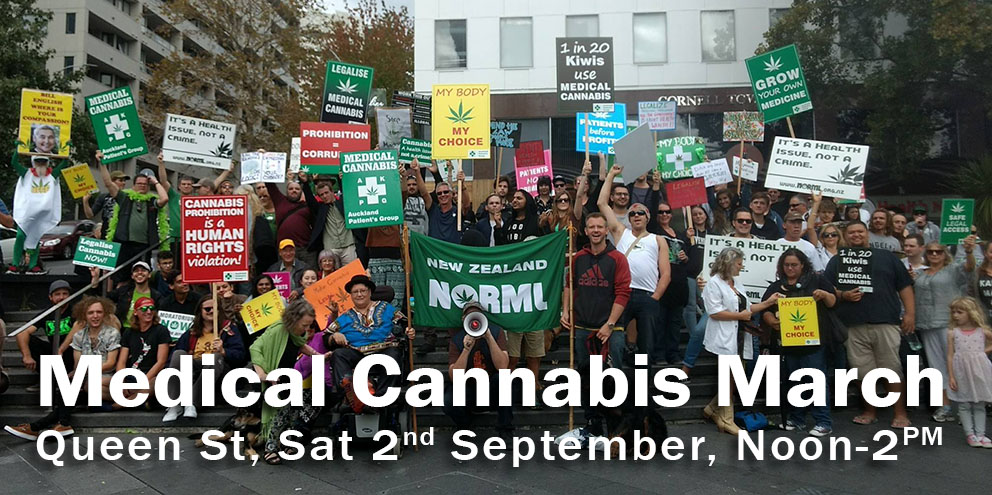 NORML and Auckland Patient's Group presents the 5th Queen Street Rally For Medical Cannabis – and this time we march!
Join us, invited guests and speakers, patients, caregivers and supporters all calling for safe legal access to natural affordable cannabis.
The Government recently announced changes for cannabidiol, a non-psychoactive ingredient of cannabis, so that doctors will no longer need special permission to prescribe it. However the Government's piecemeal changes do not go far enough, and many challenges for patients remain.
Access is extremely difficult, especially for sick people who need to concentrate on getting better, not filling out forms and fundraising for unreasonably priced pharmaceutical alternatives to a herb anyone can grow easily and cheaply at home.
With a general election to be held on Saturday 23rd September, polls are consistently showing massive support for cannabis law reform, and all of our major parties except National now support some form of the law change.
Both Labour and the Green Party have pledged to legalise medical cannabis if elected to government. TOP released a comprehensive cannabis legalisation policy last month. ACT leader David Seymour would legalise cannabis "tomorrow".
The Maori Party now supports decriminalisation, medical use, and is "open" to having a conversation about legalisation. NZ First has promised a binding referendum on cannabis laws. Even United Future now supports making legal all low-risk drugs including cannabis. National is alone in continuing to support the existing, failed, policy.
We aim to:
Raise awareness and show support for medical cannabis

Patients and their caregivers should be allowed to grow and use cannabis for health purposes

Pharma cannabis meds to be more available, and affordable
Approvals for products and patients to be fast tracked
More funding to be put into researching medicinal uses of cannabis here in NZ
Encourage a domestic industry producing the world's best cannabis meds
Support politicians, parties and election candidates who support us, including raising awareness of what is happening (or not) in Parliament
Call upon the NZ Police to declare a moratorium on arresting or prosecuting anyone for medical use/cultivation/supply while this important debate is occurring
Join us and show your support!
This rally is part of our series of monthly rallies intended to raise awareness of medical cannabis, the plight of patients, and options for law reform. Previous rallies were held on 22 April, 1 July and 5 August 2017.
Speakers to be announced.
For more information see this event on NORML's Facebook page or see the Auckland Patients Group Facebook page.